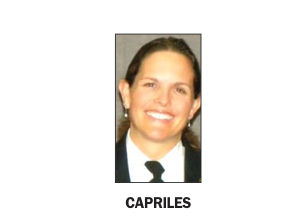 BY ALLISON LEVITSKY
Daily Post Staff Writer
One of the Palo Alto Fire Department's deputy fire chiefs has taken legal action against the city after she was suspended without pay for three days last year for using a fire engine to allegedly settle a dispute in her Mountain View neighborhood.
Chief Eric Nickel suspended Deputy Chief Catherine Capriles on Sept. 19, 2016, for bypassing the chain of command and having Engine No. 65 drive through her neighborhood, the Crossings, to test its emergency access, street widths and parking spaces.
Nickel testified that Capriles inappropriately used the fire engine and its crew to settle a neighborhood dispute at the Crossings, where she was elected president of the homeowners' association in November 2015. City Manager Jim Keene said the incident could be perceived as an abuse of power.
She was suspended for 27 work hours starting Oct. 24, 2016, losing $2,582.55, at $95.65 per hour. Capriles made $266,257.56 in salary and benefits last year.
Capriles appealed the case, and on April 12, Administrative Law Judge Michael Scarlett reversed the suspension, ordering the city to reimburse her for the loss of salary.
Kristianne Seargeant, an independent investigator hired by the Fire Department, had found on July 26, 2016 that Capriles had gone outside of her assigned duties and bypassed the chain of command, but that she had not abused her authority, misused equipment or committed an abuse of work time.
"The objective individuals who reviewed the case found that I didn't do anything wrong," Capriles told the Post. "I thought that it was extraordinarily inappropriate and I wasn't going to sit back and be silent."
Engine No. 65, the same engine that was sent up to the North Bay this week to assist with the deadly firestorm, is stationed at Fire Station No. 5 at 600 Arastradero Road. Because of the station's proximity to the Crossings, Engine No. 65 could legitimately be sent to respond to a fire in that area. Seargeant found that while it was "commonplace for fire engine crews to drive through their response areas to familiarize themselves with the various buildings they may encounter on an emergency," and that while the engine could have been used to pre-plan for a fire in Mountain View, a Palo Alto fire engine would have no authority to take action about fire code or lane modifications in Mountain View.
Nickel also said that the department does not have a pre-fire plan for Mountain View or the Crossings and does not have a standard procedure for conducting pre-fire planning. Such planning wouldn't have been triggered by individual employees, he said.
Chain of command
Nickel's notice of suspension concluded that Capriles had gone directly to a department fire engine captain, skipping the battalion chief. He testified that he believed she had inserted the department into a personal dispute by ordering the engine to drive through her neighborhood.
After becoming president of the homeowners' association, Capriles asked Mountain View Fire Marshal Jaymae Wentker and permit technician Toni D'Amico to review the red curb designations to attempt to maintain safe fire lines and address inadequate parking in the neighborhood.
According to Scarlett, Nickel's primary reason for suspending Capriles was for her use of the engine in a personal dispute. Her violation of the chain of command was secondary, Scarlett wrote.
Nickel testified that he believed she had used the engine to make a point to a former president of the homeowners' association, Paul Simoes de Carvalho, who had allegedly had additional curbs in the Crossings painted red without approval from the city of Mountain View, resulting in a loss of parking in the neighborhood.
The captain of Engine No. 65 reported that the engine could fit through the streets at the Crossings.
Nickel even considered demoting Capriles, but opted for a suspension "after considering (her) stellar 22-year career with the department," according to Scarlett's ruling.
Keene upholds suspension
On May 2, Keene disregarded Scarlett's overturn of the suspension and upheld the original suspension. "In requesting a fire engine to drive through your home neighborhood, 'the Crossings,' without thinking about or acknowledging the ability for this to be perceived as an abuse of the power of your position, is a grave lack of judgment," Keene wrote. "We expect city staff to have the foresight, understanding and integrity to work through difficult situations and to conduct themselves appropriately."
Nickel said the city doesn't comment on existing litigation, but that Capriles' lawsuit was part of a multi-step appeals process that is fairly routine for city employees.
"She's appealing a decision that was made, and she's totally entitled to it," Nickel told the Post. "She's a capable chief officer. She works very hard."