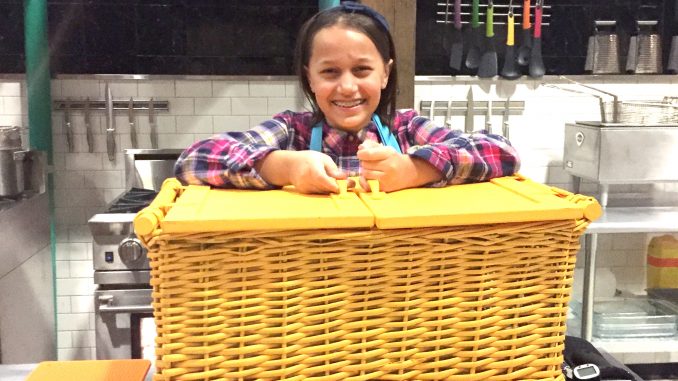 Anna Ghai, 12, on the set of "Chopped Junior," where she'll premiere at 8 p.m. on Sept. 26. Photo by her mother, Maria Orvell.
BY ALLISON LEVITSKY
Daily Post Staff Writer
A Terman Middle School student fresh off the set of "Chopped Junior" is ready for her Food Network debut.
Seventh grader Anna Ghai, 12, of Palo Alto, went head-to-head against three other kids under the age of 13 in the single-episode cooking contest, which airs at 8 p.m. Sept. 26.
The winner got $10,000 and a Chopped Junior chef's coat, but Anna said the network had instructed them not to say who won before the show airs.
In each of the episode's three rounds, the kids get a basket of "wacky ingredients" and 30 minutes to cook a three-course meal. In this case, the basket had a Caribbean theme, presenting the challenge of coconut milk, a red snapper filet, mangos and plantains.
Anna whipped up a jerky monkfish salad with grilled papaya and a classic dijon vinaigrette, a pan-seared red snapper filet over a mango and coconut puree with fried cinnamon plantain chips and a kiwi and guava clafoutis with a mixed chocolate drizzle, lime-sugar cookie crumble and a homemade caramel sauce.
"The clock is really stressful," Anna said, adding that it was "a once-in-a-lifetime experience."
Anna said she's been helping to cook for her three siblings with her mother, who is Swedish, since she was 5. Her mother and father, who is Indian, are both travel agents, so she's picked up an interest in different cuisines by traveling the world with them. She entered a cooking competition in fifth grade and has gone to a number of cooking camps, she said.
"My goal is to cook every day," Anna said, adding that she was taking home economics at Terman next semester and hopes to enter more cooking competitions. "It would be really cool to have my own bakery one day."