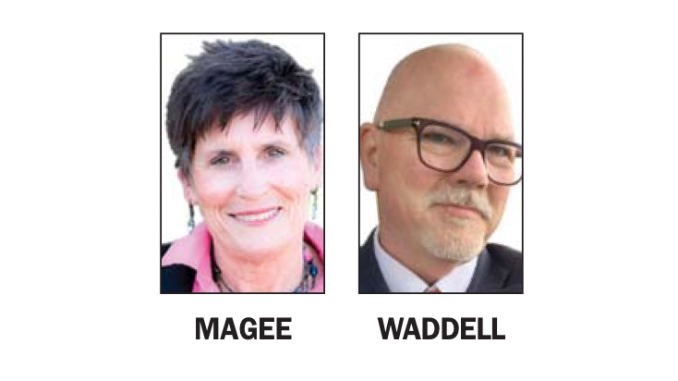 BY EMILY MIBACH
Daily Post Staff Writer
For the first time in at least eight years, there is a contested race for the San Mateo County Schools Superintendent, and while the election isn't for another 10 months, the two candidates have raised a combined $37,000 so far.
Both currently work for the county board of education, the agency they hope to head after the election.
Gary Waddell is currently the deputy superintendent of instruction, and has worked for the county for 11 years.
Nancy Magee is the associate superintendent of student services, and has worked for the county for seven years.
The current superintendent, Anne Campbell, made $221,213 in 2014, the most recent year for which records were available. She is not running for re-election in June 2018.
The county superintendent and board of education acts as a liaison between the state and 23 districts in the county regarding funding and other needs. It also serves as an appeals board for expulsions and other disciplinary actions and provides instruction for students with severe disabilities and those who are wards of the juvenile court system. It also handles appeals in disputes over whether to allow a charter school to start in a local district.
Both announced their candidacies in June, shortly after Campbell announced she would not be seeking re-election.
This is the first contested election for superintendent in at least eight years. Campbell ran uncontested in 2010 and 2014.
Magee said she thinks the race is contested this time because there is no incumbent or appointee to take Campbell's place before she leaves office.
In 2014, Campbell earned $221,213 in gross pay.
"I think it's the fact that Anne is leaving and that creates a space," Waddell said. "This is something I have thought about doing for a long time and I'm even more committed because the stakes are so high."
Fundraising
So far Waddell has raised $23,026 while Magee reports collecting $14,850. According to Waddell's finance forms, more than half of his fundraising comes from loans, $8,000 from himself and $5,000 from former county superintendent Jean Holbrook.
He has also received donations from Hillsborough Police Capt. Caroline Serrato, $100, Rich Gordon, $1,000, and $100 from Sequoia Union School District board president Carrie DuBois.
Magee has given herself $6,000 for the campaign as a donation.
She has also received donations from former county supervisor Adrienne Tissier ($250), Sequoia Union High School District board member Georgia Jack ($250) and Belmont Police Chief Dan Desmidt ($100).
Endorsements
Waddell and Magee have also been collecting endorsements. Waddell has support from state Sen. Scott Wiener, assemblymen Kevin Mullin and Phil Ting and county supervisors Carole Groom and Warren Slocum. Magee has been endorsed by Treasurer-Tax Collector Sandie Arnott, Redwood City Vice Mayor Ian Bain, county Controller Juan Raigoza and Sheriff Carlos Bolanos.
Significantly, neither have received endorsements from the California Teachers Association union or EdVoice, both big players in California education politics.
Why they're running
Both Magee and Waddell said part of the reason why they have announced their candidacies so early is because of the "assault on education values," as Waddell put it, from new federal Secretary of Education Betsy DeVos.
Magee said she started her campaign in June because it's important for county residents to know who is in the race and wants to serve her community better by stepping into the leadership position as superintendent.
"I went to the Women's March in Washington and that was very powerful. As an educator I feel like I am serving my community and making it better, but I realized that it's not enough, you need to pick up your head and step with both feet into a leadership role that is more impactful for the entire community," Magee said.
Waddell said he's in the race because of the current political climate, especially considering that DeVos is in favor of providing vouchers to families in order to place their children in private schools.