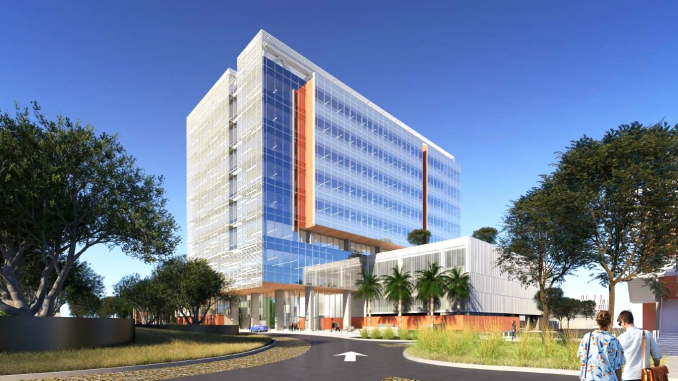 BY JEN NOWELL
Daily Post Correspondent
Stanford is proposing a nine-story, 227,700-square-foot medical office building on Broadway in Redwood City, which, if built, would make it the tallest building in the neighborhood.
The proposal includes demolishing the existing buildings at 500 and 510 Broadway near Douglas Avenue and replacing them with a 147-foot building with underground parking, plus an additional two-story parking garage.
The project would include 1,107 parking spaces in total.
The proposal is part of the Stanford in Redwood City Precise Plan, which was approved by Redwood City Council in 2013.
City officials will be reviewing the project solely for its conformance to the precise plan. Currently, there aren't any public meetings scheduled with the city and Stanford to discuss the application.
This is the second phase of the project. The first buildings of phase one opened in March, with completion of this phase targeted for the fall.
The first phase included the construction of four office buildings, a cafe and outdoor promenade, a child care center, a parking garage, and an employee wellness center.
Under the approved plan for the 35-acre site, formerly the Mid-Point Technology Park, a building can reach heights of 120 feet if it is set back more than 100 feet from Broadway and more than 200 feet from Highway 101, which backs the project site.
However, a building can exceed the height limit by up to 30 feet, if the city agrees to it. This means the building could be up to 150 feet in height — the proposed building is just over 147 feet tall.
The precise plan allows up to 1.5 million square of office space to be built which includes up to 228,000 square feet for a medical clinic, and up to 152,000 square feet of research and development space.
The campus will accommodate about 2,700 employees, making it the third-largest employer in Redwood City.