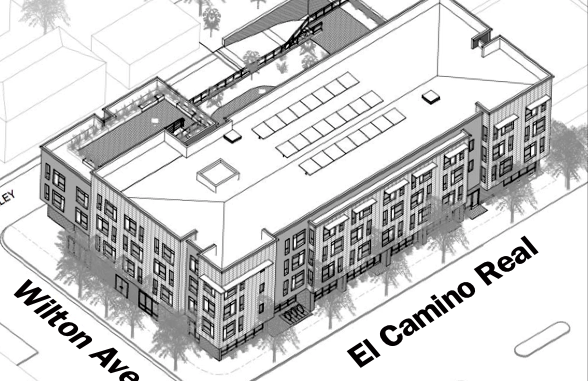 BY ALLISON LEVITSKY
Daily Post Staff Writer
After last year's nine-member Palo Alto City Council failed to approve more housing than was taken off the market in 2018, the new seven-member council will have its first shot Monday at playing catch-up on the city's goal of adding 300 new units per year.
The nonprofit Palo Alto Housing is coming back to council with the 59-unit affordable housing development proposed at 3703-3709 El Camino Real, replacing the two single-story buildings where Treasure Island Stamps and Coins, Nouvelle Bridal, Family Fashion Cuts and Euromart are now.
The project would stand four stories tall and include two levels of garage parking for 41 cars, more than the 33 required in the property if council rezones it as an Affordable Housing Combining District.
All of the units would be priced below market rates and about 25% would be reserved for residents with developmental disabilities.
Of the 59 units, 56 would be studios, two would be one-bedroom units and one would be the manager's unit.
City may drop retail requirement
Palo Alto Housing is also asking that the council exempt the property from an ordinance requiring ground-floor retail in order to allow the nonprofit to use tax-exempt bonds, which aren't allowed for mixed-use projects.
When the project came to council in August 2017, it was intended to cater to Palo Alto residents who earn between 30% and 60% of the median income in Santa Clara County, between $27,930 and $55,860 for a single person.
The city has set the goal of adding 315 units per year through 2030.
A 57-unit market-rate "workforce housing" project was approved at El Camino and Page Mill Road, but in June, the 75-unit Hotel President apartment building was sold to a hotelier who hopes to convert the building back into a hotel, wiping out any progress the council made on adding new units.
More projects coming to El Camino
At least 11 developments are currently in the works on El Camino Real, including 3001 El Camino, 3200 El Camino, 3225 El Camino, 3265 El Camino, 3401 El Camino, 3585 El Camino, 3709 El Camino and 3877 El Camino.