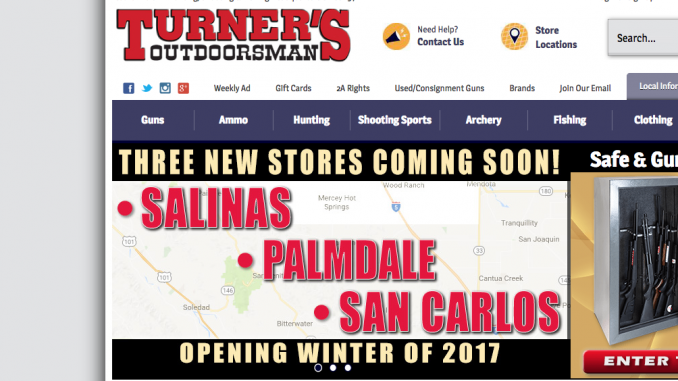 BY EMILY MIBACH
Daily Post Staff Writer
San Carlos officials may allow for new gun stores to open up in the city after all.
The city currently has a gun store moratorium on the books, after a Southern California firearms retailer attempted to open a store on Industrial Road in 2017, sparking ire from some residents who think there should be no more gun stores in San Carlos.
On Monday (Jan. 14), the San Carlos City Council will discuss what restrictions ought to be applied to new gun stores interested in opening up in the city.
The city's planning commission has suggested that the council decide where the new gun stores are allowed. There are currently two in the city — Imbert and Smithers at 1144 El Camino Real and Equity Arms at 1100 Industrial Road.
Buffer zones for gun stores
The council is being asked to decide how far away a gun store must be from certain places. Community Development Director Al Savay is suggesting council impose a buffer of 250 to 1,000 feet between a gun store and any school, preschool, day care facility, park, community center, place of worship, youth center or neighborhood.
However, the planning commission says any new gun stores not be in an off beat location. Commissioners discussed allowing gun stores along El Camino, Industrial Road, Brittan Avenue and Howard Street, "to ensure visibility to limit break-ins," Savay wrote in his report.
Turner's Outdoorsman, the Southern California chain whose proposed store led to an outcry of residents, had leased a space at 1123 Industrial Road, not far from the REI.
The moratorium was first approved on Nov. 13, 2017, following a widely attended council debate on whether San Carlos should allow Turner's from opening.
Two permits may be required
Other things that the council may consider on Monday is whether to have a dual permitting process for gun stores. One permit would be approved by Police Chief Mark Duri, which would essentially say that the gun store has acceptable plans for security and performing background checks on employees.
A would-be store owner would also have to obtain a conditional-use permit from the planning commission.
The council will discuss the potential restrictions on gun stores on Monday. From there, city planners will draft an ordinance that will go to the planning commission in February, and then return to council in March, according to a memo from Savay.