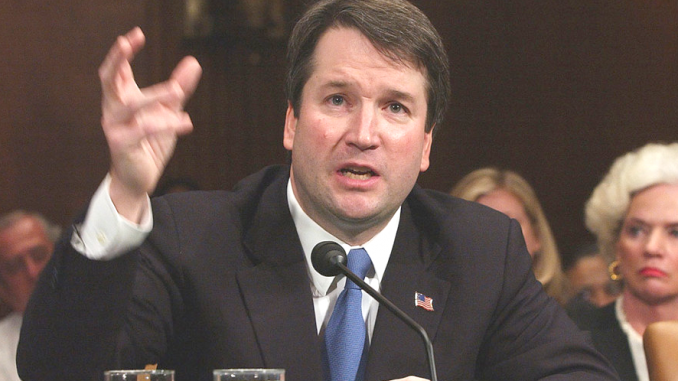 By the Daily Post staff
Palo Alto Congresswoman Anna Eshoo and an unnamed Palo Alto professor are central figures in a new development in the nomination of Judge Brett Kavanaugh to the U.S. Supreme Court.
Sen. Dianne Feinstein, D-Calif., has referred a letter alleging possible sexual misconduct by Kavanaugh while he was in high school to the FBI, the New York Times reported this afternoon.
The letter was first sent to Eshoo's office, and Feinstein received it from Eshoo "this summer," the Times said.
The Washington, D.C., website Politico said that the letter was written by an unnamed professor.
A story posted by Politico said:
"Senators and aides have been chattering about the details of the letter for the last week, including that it was written by a Stanford Law professor and sent to Rep. Anna Eshoo (D-Calif.), who then forwarded it to Feinstein."
Politico did not identify the professor.
Michele Dauber, the Stanford law professor who led the campaign to recall Judge Aaron Persky over the 6-month jail sentence he gave to Brock Turner in a sexual assault case, told the Daily Post the letter did not come from her and she has no information about it.
Feinstein isn't saying who that person is or describing the information in any way. She said the person "strongly requested confidentiality, declined to come forward or press the matter further, and I have honored that decision."
The Times story doesn't explain why Feinstein waited until the week before Kavanaugh's confirmation vote by the Judiciary Committee to refer the letter to the FBI. The story also doesn't say why Eshoo, a Democrat, didn't refer the letter to the FBI herself.
Eshoo's office declined comment to the Post, saying matters involving constituents are confidential. Feinstein's office gave the same response to the Post.
The FBI said today (Sept. 13) that it had received Feinstein's referral and included it in Judge Kavanaugh's background file. A bureau official also said that no criminal investigation had been opened related to the matter.
The Times said it spoke to two anonymous sources who say the letter concerned an incident of possible sexual misconduct between Judge Kavanaugh and a woman when they were both in high school.
Kavanaugh is 53 years old and was in high school from 1979 to 1983. He attended Georgetown Preparatory School, an all-boys Jesuit high school in Bethesda, Maryland.
The London newspaper The Guardian said it was told by an anonymous source who was briefed on the letter that the incident involving Kavanaugh and a woman that took place when both were 17 years old and at a party. According to the source, Kavanaugh and a male friend had locked her in a room against her will, making her feel threatened, but she was able to get out of the room.