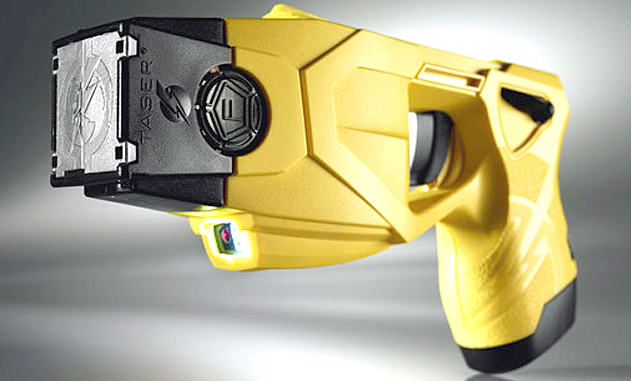 BY EMILY MIBACH
Daily Post Staff Writer
East Palo Alto police will soon be wearing body cameras, but council still needs to decide on whether officers ought to carry Tasers after residents criticized the stun gun device and complained the proposal was made with a lack of advance notice to the public.
During Wednesday's (Aug. 8) meeting, the council and four residents expressed concerns regarding Tasers. One critic, former public defender Aram James, cited a Reuters report that said that 1,005 people have been killed by Tasers.
"I have mixed feelings on the (Tasers). Even though the coroner said there have been no deaths in San Mateo County, we know from the news that there have been deaths in San Francisco and Oakland," councilwoman Donna Rutherford said.
Police Cmdr. Jerry Alcaraz said he also read the Reuters report, but pointed out that further down, the report says that only 150 autopsy reports cite the cause of death being from the Taser.
Rutherford said she was also concerned that cops might get their Tasers confused with their guns, and accidentally kill someone.
Police Chief Al Pardini said that Tasers are positioned on the opposite side of an officer's body from their gun. He said officers will be trained so that there will never be a situation where they are pulling out both their gun and Taser. Also, Tasers are bright yellow.
Agenda item unclear
Resident Jane Howe criticized how the item regarding Tasers was placed on the council's agenda — pointing out that the agenda item says the council will be considering "conductive energy devices," and does not straight out say "Tasers."
"If you told the community that Tasers would be voted on tonight, then you may have had a full house," Howe said.
The council agreed with Howe, and put off deciding on approving the police contract to lease 33 Tasers from Axon, the company formerly known as Taser.
Councilman Carlos Romero grilled Pardini and Alcaraz on Tasers, use of force by police and the city's policy regarding the stun guns. Romero asked that the next time the council deliberates on Tasers, the police department provide information on its use-of-force policy.
A nonlethal alternative
Pardini told Romero that one reason police want Tasers is that they provide a nonlethal way of incapacitating someone who is being combative.
Right now, East Palo Alto cops have pepper spray, which may affect the officer spraying it or other people nearby, batons, which can break bones, and their guns.
While deciding to take their time in reviewing their Taser policy, the council did ultimately approve the department's proposed policy regarding body-worn cameras.
But Pardini negotiated a package deal with Axon for both Tasers and body-worn cameras for one price of $214,073 over five years. Now that the council wants the products to be considered separately, he will have to return to council next month with a new figure for each item.
Other cities
East Palo Alto is the only city in the county that doesn't use Tasers. But it's not the last in the county to deploy body cameras. Redwood City police and the San Mateo County Sheriff's Office don't have them.
Palo Alto City Council approved buying 50 body cameras at a cost of $110,000 on May 7.
San Mateo police started wearing body cameras in February.
Officers in Mountain View, Los Altos, Atherton, Belmont, Menlo Park and Burlingame all wear the devices as well. So do Santa Clara County Sheriff's deputies.