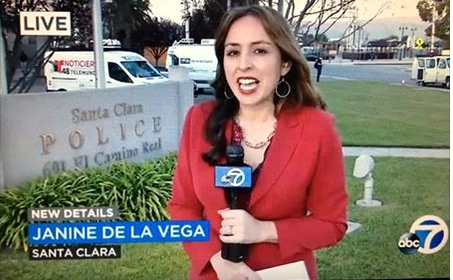 BY ALLISON LEVITSKY
Daily Post Staff Writer
Channel 7 reporter Janine De la Vega is leaving broadcast news to become the first civilian public affairs manager of the Palo Alto Police Department.
"This was a personal choice to make a career switch at this point in my life and I'm excited for the change," De la Vega posted on Facebook yesterday (April 16). "I'm satisfied and ready for what's next."
De la Vega started at Channel 7 last year after 12 years reporting for Channel 2 and a 21-year broadcast career. She started her TV career in 1997 at an NBC affiliate in Chico before working in Elkhart, Ind., and Las Vegas.
De la Vega grew up in San Jose and studied communications at Santa Clara University.
"It's a wonderful career and I've had fun," De la Vega said. "And I've laughed, I've smiled, I've cried, I've felt I've made an impact."
She said she would be handling public information, media relations, social media and crisis communications.
De la Vega will be taking over these duties from police Capt. Zach Perron, who has been the head of the department's public affairs program for six and a half years.
For the last four and a half years, Perron has also run the department's Field Services Division, which includes patrol, traffic and special operations, "essentially doing two full-time jobs," he told the Post.
The department started searching for a civilian public affairs manager last year while Perron continued to work as public affairs manager, writing press releases, giving press conferences and doing TV interviews in major incidents.
De la Vega will be taking over these duties and overseeing public information officers, cops who return calls from reporters about day-to-day crime incidents.
"I'm confident that our media partners will find that the addition of Janine to our team will even further strengthen our reputation as a police department that is easily accessible to the press," Perron said in an email.
The salary range listed on the ad posted last year for the job was between $89,772 and $134,659.