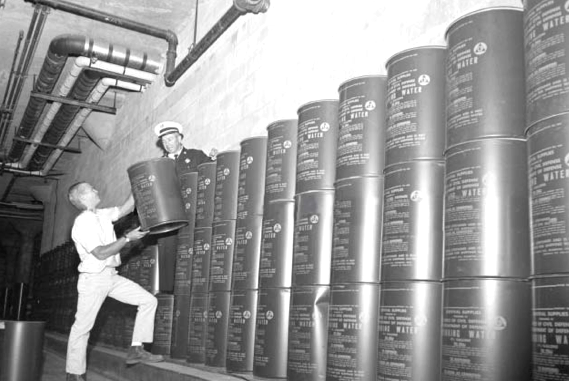 Water barrels are stacked in the fallout shelter below Hillsdale Shopping Center in 1964. Photo courtesy of the San Mateo County Historical Association.
BY EMILY MIBACH
Daily Post Staff Writer
If the unthinkable happens and North Korean dictator Kim Jong-un manages to get a nuclear weapon atop an intercontinental ballistic missile and shoots it at the Bay Area, where would residents go to protect themselves from the blast and the fallout?
Fallout shelters, marked by black and yellow signs, have disappeared in the past few decades.
Menlo Park Fire Chief Harold Schapelhouman knew of one former shelter, at St. Patrick's Seminary in Menlo Park, which is next to Fire Station 1 on Middlefield Road. He said that in the 1980s, he and a former fire chief went to St. Patrick's and found water storage tanks in the shelter.
"All of that was expired, those things are more of catacombs versus shelters," Schapelhouman said.
Other fallout shelters in the area were at the old San Mateo County Courthouse in Redwood City and Hillsdale Shopping Center, said Mitch Postel, president of the San Mateo County Historical Association.
"Hillsdale was a serious deal," Postel said. "They were ready for thousands of people to be there."
Postel said the items kept in the Hillsdale fallout shelter were later donated to the historical association.
Palo Alto shelters
According to an article from the Palo Alto Daily News in October 2001, there used to be five public shelters in Palo Alto, one being the former Medical-Dental Building that used to be on Hamilton Avenue and the Art Center at 1313 Newell Road, which used to be Palo Alto's City Hall until its current city hall was built in 1971.
According to the same article, there used to be 18 basement shelters on Stanford's campus.
Preparing for an attack
While the old bunkers aren't safe, FEMA and Homeland Security are working on drills and responses to nuclear attacks.
In New Jersey on Wednesday, the two agencies conducted nuclear response drills to practice how to react and evacuate victims if there is a nuclear attack in the New York City area, according to WNYW-TV New York.