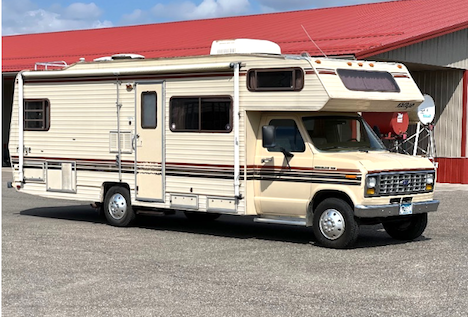 Palo Alto police are looking for a tan Ford motorhome that was carjacked on the 400 block of Matadero Avenue early this morning, while the owner was asleep inside.
At 12:35 a.m. police got a call about the carjacking and spoke to the owner, a man in his 60s. He said he was awakened by the sound of the engine starting. He then found a man in his 20s sitting in the driver's seat.
The owner climbed on the driver's side side step to confront the carjacker. A brief struggle ensued but the owner wasn't able to pull the carjacker out the vehicle.
The carjacker then backed up the motorhome, hitting the vehicle parked behind it. The owner fell from the step and the carjacker fled in the motor home, where he was last seen going north on El Camino Real.
Police said it appeared the carjacker got into the mobilehome through an open window and found a set of keys inside. The victim suffered minor injuries to his extremities but declined medical attention, police said.
The victim described the carjacker as a white man in his 20s, standing 5 feet, 9 inches tall, and weighing 190 pounds. He had dark hair and a closely trimmed mustache, and was wearing a white shirt and blue pants.
The victim's tan Ford Fleetwood motorhome with a brown stripe remains missing.