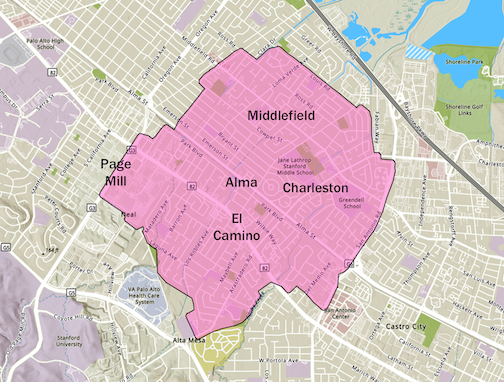 Workers will use trucks spray pesticides in south Palo Alto and a small part of Mountain View on Thursday (Sept. 14) for two to four hours starting at 10 p.m.
The Santa Clara County Vector Control District says the spraying is necessary because a mosquito with West Nile virus was detected in the area.
"It is critical that the district conduct adult-mosquito-control treatments as quickly as possible upon finding a positive mosquito," the district said in a statement. "Any delay in the application would present an imminent threat to public health and safety, exposing the public to potential vector-borne injury, or even death."
Mosquito control treatments a pose "minimal risk to people, pets, animals and the environment" when applied by a licensed vector-control professional following label instructions, the district stated.
Those who would like to take extra precautions can keep family members and pets inside during the approximately four-hour adult-mosquito-control treatment, with windows and doors shut. In the morning, the pesticide quickly breaks down when exposed to sunlight, the district said.
Since the district applies pesticides at what's called an "ultra-low volume," individuals aren't likely to breathe or touch anything that has enough pesticide on it to be harmful.
The district said all pesticides are approved by the Environmental Protection Agency for use in public areas and are widely used by vector control agencies throughout California.
For a detailed look at the area where the spraying will take place, here's an interactive map: https://arcg.is/1W8Gqm0
Spraying will take place in the 94301, 94303, 94304, 94306 and 94040 ZIP codes.
Vector Control staff are available to answer questions from the public on the agency's dedicated West Nile Virus Hotline at (408) 282-3114, from 7:30 a.m. to 3:30 p.m., Monday-Friday. Questions can also be submitted by email to [email protected].