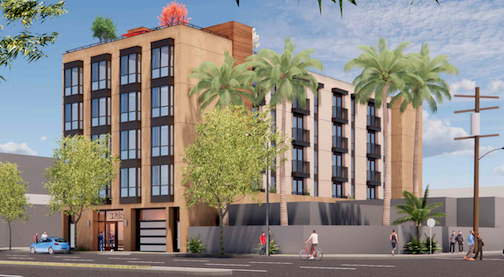 BY BRADEN CARTWRIGHT
Daily Post Staff Writer
Palo Alto City Council was excited tonight (Sept. 11) by a proposal to build 44 apartments for teachers in a five-story building on El Camino Real in the Ventura neighborhood.
Developer Jason Matloff said his project, called "The Academy," will offer rents lower than a publicly funded teacher housing project going up at 231 Grant Ave.
Matloff said he just needs the city to allow his building to be five feet taller than the city's 50-foot height limit and to have only 22 parking spaces at 3265 El Camino Real.
"We're trying to squeeze as much as we can into this project," Matloff said. "This is the reality of a for-profit development, so I'd like to see if we can make it work."
The apartments would be at 3265 El Camino Real, next to the former Travelodge motel, which is now Kasa Palo Alto.
Councilman Pat Burt questioned if half of the residents would pass on owning a car. He said Matloff should look into an e-bike or a car rental program, possibly shared with other housing developments in the Ventura area.
Matloff said younger people aren't driving as much these days, and he's had similar arrangements work in San Francisco.
"There is risk of spillover into neighborhoods," Councilman Ed Lauing said.
Council members were giving feedback tonight before Matloff turns in a formal application. Besides parking, their other concern was whether teachers would actually be able to afford rent.
"We throw out this term 'affordable' quite a bit, when it might not be as affordable as we hoped," said Vice Mayor Greer Stone, himself a teacher.
The building would have 20 studios and 24 one-bedroom apartments. The apartments would be deed restricted as affordable housing, with rents set to match a resident's income.
Studios would be $2,200 for low-income residents and $3,600 for people with a moderate income, Matloff said.
One-bedroom apartments would be $2,500 for low-income residents and $4,100 for people with a moderate income, Matloff said.
Nine units would be for low-income residents and 35 would be for moderate-income residents.
Stone and other council members said that teachers would be well into their career before they could afford an apartment. At that point, they may no longer be interested in only one bedroom, Stone said.
Rents were calculated based on 30% of the average income in Santa Clara County, Matloff said.
The teacher's union will keep a list of interested teachers, and they'll get priority. If no teachers want to move in, then the apartments would be offered to school employees who aren't in the teacher's union, and then the public, Matloff said.