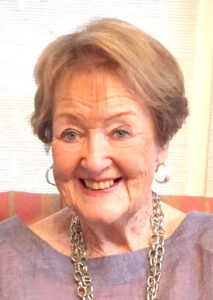 June 28, 1926 – December 30, 2022
Doris Santana, a resident of Palo Alto, California, peacefully passed away on December 30, 2022, surrounded by her cherished loved ones in the home she held dear. At the age of 96, she leaves behind a rich tapestry of memories and a lasting impact on all who had the pleasure of knowing her.
Born and raised in Hillsborough, California, Doris embarked on a remarkable journey of academic and personal achievements. She obtained her BA from Stanford University, where she nurtured a lifelong love for learning and intellectual pursuits. Doris's time at Stanford laid the foundation for her unwavering spirit of curiosity and excellence.
Doris' zest for life was evident in her diverse range of interests and hobbies. She had a passion for sports, particularly golf, tennis, and following the athletic triumphs of Stanford teams. Doris' competitive spirit and enthusiasm extended to games such as dominoes and bridge, where she enjoyed friendly competition and cherished moments of laughter with friends.
Her involvement in the Menlo Circus Club and Menlo Country Club provided her with a vibrant social circle and an opportunity to connect with like-minded individuals who shared her love for leisure and camaraderie.
Doris' life was deeply intertwined with that of her loving husband, John, with whom she shared 68 incredible years. Together, they embarked on countless adventures, exploring the far corners of the world. From the vibrant streets of India to the ancient wonders of Egypt, from the vast landscapes of South Africa to the cultural richness of Europe, Doris and John embraced the marvels of each destination with open hearts and open minds.
Their legacy lives on through their five children: Mark (Sheila), Jane (Jim), Sally (Nick), Annie, and James (Laurie), all raised in Palo Alto. Doris' commitment to family was unwavering, and she poured her heart into creating a nurturing and loving home for her children. Her wisdom, kindness, and resilience will forever shape their lives and the lives of future generations.
In addition to her children, Doris leaves behind ten adoring grandchildren: Alex, Taylor (Heather), Elizabeth, Catherine (Jack), Andrew, Sarah, Rebecca, Brooke (Wyatt), Emma, and Paige. She took great joy in watching them grow, celebrating their achievements, and imparting valuable life lessons. Doris' love and guidance will forever be a source of inspiration for her beloved grandchildren.
In remembrance of Doris, the family kindly requests donations to be made to the Charles Armstrong School – Mark Coplen Santana Scholarship Endowment Fund, located at 1405 Solana Dr., Belmont, CA 94002. This contribution will honor Doris' commitment to education and provide opportunities for future generations to thrive. Alternatively, donations can be made to a charity of your choice, allowing her spirit of compassion and generosity to continue making a difference in the world.