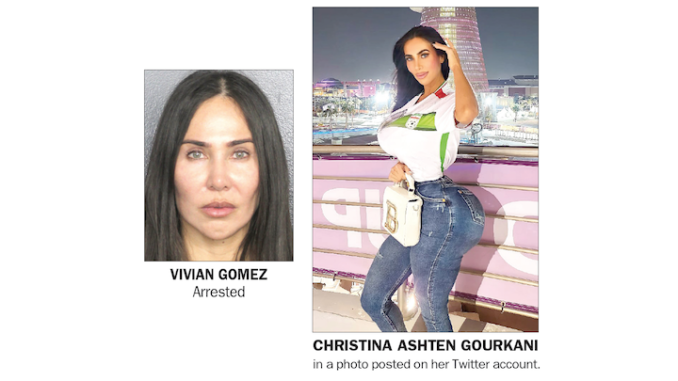 BY EMILY MIBACH
Daily Post Staff Writer
San Mateo County authorities are extraditing a Florida woman who is accused of injecting silicone in the rear end of a Kim Kardashian lookalike from Burlingame who later died.
Christina Ashten Gourkani, 34, was a social media influencer and model who was best known for her work as a Kim Kardashian lookalike.
However, she wanted to appear even more like Kardashian, who famously has a large behind, according to the District Attorney's Office. Gourkani hired Vivian Gomez, 50, of Fort Lauderdale, Fla., to assist her with her buttocks enhancement. Gomez does not have a license to practice medicine.
Gomez traveled to a Burlingame hotel and gave Gourkani "several injections" of what is believed to have been just silicone on April 19, according to DA Steve Wagstaffe. The coroner's office is still investigating Gourkani's death, Wagstaffe said. Shortly thereafter, Gourkani began having health issues, and according to her family's GoFundMe, she died in the early hours of April 20 from a heart attack.
Gourkani, who went by Ashten, is remembered by her family on their GoFundMe as a caring and loving free spirit who always tried to get others to smile. She would often seek out the person sitting alone and go speak with them, her family recalled. She was a licensed insurance agent and had a social media presence, according to her website.
Gomez was arrested on April 20 at the Fort Lauderdale Airport. She will be extradited to Redwood City sometime in the next month. Once she appears in court, she will be charged with involuntary manslaughter and practicing medicine without a license resulting in great bodily injury.