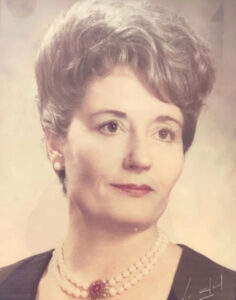 January 29, 1923 – January 10, 2023
Shirley Barbara Doppee Felsovanyi, born January 29, 1923 to Victor Doppee and Thelma Yetter Doppee of Redwood City, died peacefully January 10, 2023 at her home in Menlo Park.
A 4th generation Californian raised on the Peninsula, Shirley's early life was shaped by being an only child in a close-knit multi-generational extended family during the Great Depression. Her lifelong love of camping, the natural world and especially birds grew from years of exploring State and National Parks with her loved ones.
She graduated Notre Dame Belmont 1940 and Stanford University 1944. She first worked in rural West Virginia for the National Polio Foundation as a Physical Therapist, then moved her medical work to Chicago where she married fellow Stanford alum Hyland Hebert, added modeling to her career and started a family. The family's return to California in 1949 was the starting point of a 10 year stint in Manila, P.I., where Hyland served his deferred military commitment as a pediatrician under cover in the new "C.I.A." while Shirley continued her work by founding clinics for polio victims, raising their 4 children and clandestinely becoming an agent for the C.I.A. In Manila she discovered a creative bent for designing and rebuilding homes, beginning with an old mansion on Manila Bay, that continued until shortly before her death.
Returning to her California roots in 1960 Shirley turned to business management after divorcing in order to devote herself to raising her now teenaged offspring. She re-met and in 1967 married her beloved husband of 45 years, Anthony S. Felsovanyi, M.D., M.A.C.P., revered clinician and professor of medicine at Stanford. Together they created and maintained a lively, expansive social network, traveled the globe voraciously and rarely separated for more than a day.
"Birdsie" 's creative talents, competitive drive and boundless energy took her to the peak as a gourmet chef and renowned hostess, a world-class Bridge Champion, a tireless and hands-on supporter of numerous area cultural, educational and Fine Arts institutions and endeavors. She learned and loved to play piano, excelled at tennis and enjoyed golf. Plunging full throttle into designing and building homes, with a flair for high quality and style she and her son Steven together built a decades long successful local business.
Shirley is survived by her son Steven Felsovanyi (Haydee), daughter Andrea Felsovanyi, granddaughter Sian Felsovanyi, step-granddaughters Megan Murtha and Mara DeWitte, and step-great-granddaughter Mary Murtha.
A Gathering of Remembrance will be held Saturday, April 22, 3pm to 5:30pm at MacArthur Park Restaurant, 27 University Ave, Palo Alto. In lieu of flowers, please consider a donation to the S.P.C.A., The Eastside School, S.F. Symphony, Habitat for Humanity or California State Parks Foundation.