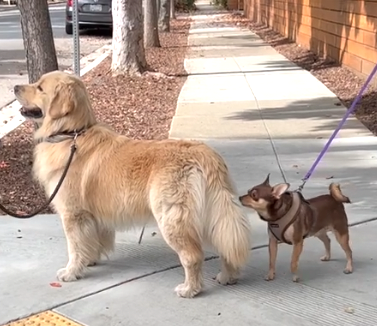 BY EMILY MIBACH
Daily Post Staff Writer
Eleven neighbors went to City Council to defend a golden retriever and his human family who are suing the city of Menlo Park after a city hearing officer deemed the dog "dangerous" after biting another dog.
"That is not a dog with behavior issues," neighbor Scout Tweedie Yates said at Tuesday's (April 18) council meeting.
"Bar is one of the most beautiful and sweet dogs I've ever met," said Jenna McGrath.
Council was set to discuss the lawsuit filed by the owners of the dog Bar, which is German for "bear," and is pronounced similarly.
Bar's owners, Liliana Kunze Briseno and Tobias Kunze, are suing to overturn over Bar's designation as a "dangerous animal" and want to block any of the penalties assessed on owners of such an animal, such as fines, installing higher fences or putting up signs saying a dangerous dog lives in their home.
After hearing from the public, council went into its closed session to discuss the case, as is allowed under state law. If any action was taken, it will be announced at the council's meeting on Tuesday. No action was taken.
The biting incident in question occurred on Aug. 10, while Bar's owners were on vacation and he was in the care of a petsitter. On that day, the petsitter took Bar and her own dog, Sundae, out for a walk.
As the petsitter and the two dogs walked down Central Avenue, they encountered a husky named Pushkin being walked by a woman pushing a stroller. The petsitter decided to cross the street as the dogs tried to run toward each other.
However, the city says in court filings that Bar "broke free from his dog walker, dashed across a public street and sunk his teeth into the neck of a leashed Siberian Husky."
"Bar then bit the Siberian Husky around the neck with such force that — despite the husky's thick and protective fur coat — Bar punctured the (dog's) skin in two places," the city's filing says.
Bar's family says the husky provoked their dog.
Scout Tweedie Yates told the council on Tuesday that his dogs have "scrambled" with other dogs leaving "similar minor injuries."
"Why have I not pressed charges for these almost identical occurrences? It is because that is what dogs do," Tweedy Yates said.
Vendetta?
Tweedy Yates and others who spoke Tuesday said it seemed like this was used to perpetuate some sort of neighborhood vendetta against the Kunzes.
Scott Stocker was one of at least three of the speakers who said they knew Bar well but had never seen the other dog, Pushkin, around town.
Nancy Tompkins said she lives across the street from Pushkin and his owner, Solomon Moshkevich, but don't know their dog and rarely see them.
Only one person has written to the city council in the defense of Pushkin.
Resident Jen Mazzon says she knows Pushkin's owners and is "confident in their objective and factual understanding" of what happened, saying that Pushkin was "significantly injured." Mazzon was also objecting to the fact that Kunzes were drumming up support for Bar and their lawsuit.
"I hope that the City Council is not swayed by incoming communications from friends and family members of the owners of Bar who are ill-advisedly advocating for a roll-back of safeguards to prevent future dog attacks," Mazzon wrote.
Willows resident Kathleen Hohalek told the council that her Yorkie was "terrified" of other dogs, but when her Yorkie met Bar, the golden retriever was "so calm and so gentle that my dog stood there," Hohalek said.
Previous Post stories:
• Feb. 8, Owners fight dog's 'dangerous' designation
• Feb. 16, Councilman Combs concerned about city handles dog disputes
• March 24, City defends 'dangerous' designation of golden retriever
• March 25, Councilman surprised at how aggressively the city is responding to dog dispute