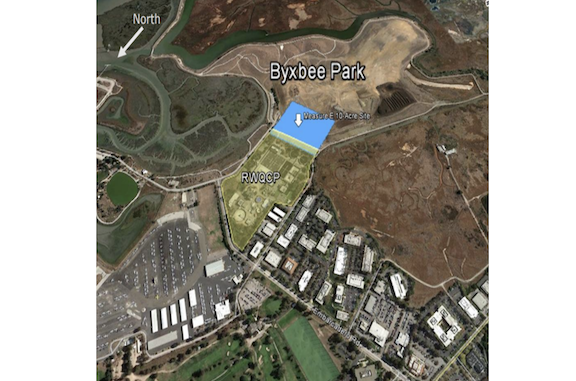 BY BRADEN CARTWRIGHT
Daily Post Staff Writer
Palo Alto City Council voted tonight (April 3) to explore building a facility that could process solid human waste on a site by the Baylands that has divided environmentalists.
The 10-acre property by Byxbee Park is known as the Measure E site, because in 2011 Palo Alto voted to un-dedicate the area as parkland and explore building a composting facility there.
The ballot measure said that council may re-dedicate a portion of the land as parkland after 10 years, which the Parks and Recreation Commission recommended in October.
Defenders of parks and open space were pitted against sustainability advocates during a long public comment period, with strong opinions on both sides.
"It almost feels like you're looking at the forest because of all the different shades of green," Councilwoman Vicki Veenker said.
Mayor Lydia Kou was the only council member who wanted to re-dedicate all 10 acres tonight. She said Measure E "would be a lie" if the land wasn't re-dedicated.
"It's another commercialization of natural resources," she said.
Councilman Pat Burt challenged Kou, pointing out that the ballot measure said council "may" re-dedicate the parkland, which isn't a requirement.
"The whole notion that it's a lie … I really think that it's unfair and inappropriate to use that kind of language to describe what's going on here," he said.
Kou said she stood by her comments and didn't want to argue with Burt.
"We can differ on that," she said.
"If we have those accusations, we'll argue about it," Burt responded.
Public Works Director Brad Eggleston said he would be interested in exploring pyrolysis, a process that can convert human waste into a fertilizer.
The technology wasn't around when Measure E was passed, but it's on the verge of a breakthrough, Burt said.
Silicon Valley Clean Water has a plant that uses pyrolysis in Redwood City, but Councilwoman Vicki Veenker said its only processing half of the city's waste and probably doesn't have capacity for more.
For now, the city is taking the water out of its human waste and trucking it to a facility in Fairfield or the Central Valley.
Trucks are taking two trips a day, and it costs the city $2.5 million a year, Eggleston said.
The Measure E site is between the city's airport, a wastewater treatment plant and Byxbee Park, which is a former dump.
"This is not prime parkland," Councilwoman Julie Lythcott-Haims said. "That's one of the reasons I'm OK with this.
The only thing there is a Public Works facility that is used to manage methane from the old dump.
About one-third of the land is flat, and the rest is hilly.