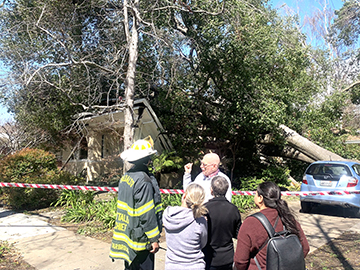 From staff and wire reports
Palo Alto utility crews are working to restore power in just about every part of town after a windstorm uprooted trees today.
At 3:55 p.m., the city updated its outage map to indicate that the power had come back on for a large number of residents and businesses.
While Palo Alto provides power to its residents, the surroudning area is served by PG&E, which reported that 61,967 customers were without electricity as of 3 p.m. Throughout the Bay Area, PG&E said it had 275,000 customers with no power.
PG&E's numbers have climbed by more than 100,000 customers since 12:30 p.m.
The reason for the escalating outages is rain, accompanied by intense gusts that have led to downed trees and wires in every part of the Bay Area.
Winds of 74 mph have been clocked at San Francisco International Airport; 97 mph at Mount Umunhum in the Santa Cruz Mountains; 93 mph along Mines Road in the East Bay; and 71 mph in the Las Trampas and Oakland hills, said PG&E spokeswoman Megan McFarland.
"Elsewhere, widespread gusts 45-55 mph have been reported and will continue with isolated gusts 65+ mph possible through the Sacramento and northern San Joaquin Valleys, as well as along the Sierra foothills and over elevated terrain," McFarland said.
In Redwood City, fallen power lines closed Woodside Road from Bay Road to Middlefield Road.
Highway 84 between Portola Road and Skyline Boulevard will be closed "indefinitely" to repair what's described as "major roadway damage."
Stoplights throughout the area have lost power. Authorities are telling motorists to treat such intersections as four-way stops.