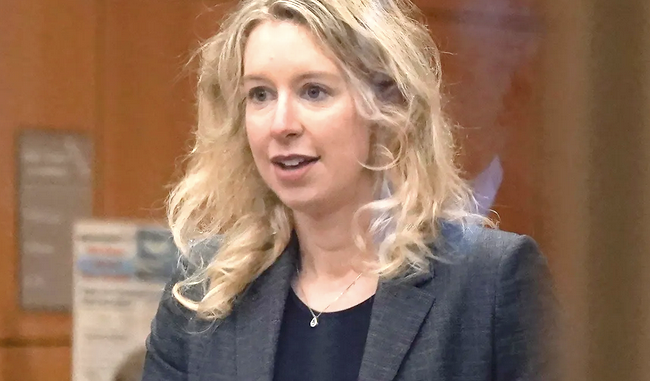 BY BRADEN CARTWRIGHT
Daily Post Staff Writer
Lawyers for Elizabeth Holmes said in a motion today (Jan. 23) that federal prosecutors were lying when they told a judge that Holmes had planned to flee to Mexico before she was sent to prison for defrauding investors in her blood-testing startup Theranos.
"The government's newfound claim that Ms. Holmes attempted to flee is baseless," her attorney Amy Mason Saharia wrote.
Holmes had purchased the flight to Mexico for her friend's wedding hoping that the Jan. 3, 2022, verdict would be different, and she never planned to go once she was found guilty, her attorney Amy Mason Saharia wrote.
Holmes, 38, has surrendered her passport, which is expired anyways, to the United States government, Saharia said.
This explanation satisfied federal prosecutors at the time, but now they're using the flight booking against Holmes to argue that she should be locked up earlier than April 27, when her 11-year prison sentence is scheduled to begin.
U.S. Attorney Stephanie Hinds that it's difficult to know what Holmes would have done had the government not intervened three days before the flight left.
Holmes is a flight risk, Hinds said.
Saharia said she will reply to Hinds by Feb. 23, and today's motion "seeks only to strike immediately certain inaccurate and confidential material contained in the government's opposition."
Hinds misled a judge about how long Holmes' partner, William Evans, was gone on the trip to Mexico, Saharia said.
Hinds said that Evans was gone for six weeks and returned from South Africa. But Saharia said Evans returned to Woodside four days after flying to Mexico, and South Africa was an entirely different trip.
Saharia said she "brought these inaccuracies to the government's attention" by email on Friday but hasn't heard back.
Hinds also left out part of an email exchange between lead prosecutor Jeffrey Schenk and Holmes' lawyer Lance Wade, who discussed the flight in January last year to Shenk's satisfaction.
"I suspected there was an explanation," Schenk said in a Jan. 23 email that Hinds left out of her motion but Saharia included in hers.
Lastly, Hinds violated confidentiality by revealing that Holmes was living on an estate with reportedly more than $13,000 in monthly expenses for upkeep, Saharia said.
Holmes hasn't lived on the property since October, and the expense reports that she sends to Pretrial Services are supposed to be confidential, Saharia said.