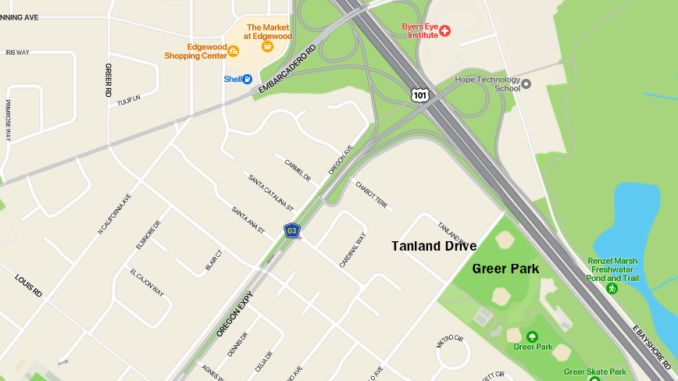 By the Daily Post staff
A man opened the door of a woman's car and grabbed her purse from the passenger's seat of her car parked near Greer Park while she was in the vehicle, Palo Alto police report.
Police haven't found the man and a second person who drove a getaway vehicle.
The robbery was reported at 7:36 p.m. on Friday (Jan. 6) in the 1000 block of Tanland Drive.
The victim, a woman in her 70s, had just returned to her parked car. As she sat in the driver's seat, she put her purse on the front passenger's seat, according to a police statement. Then she noticed a man get out of a car that had just pulled up across the street. The man walked over to her car, opened the passenger side door, and grabbed for the purse.
The victim tried to hold on to the purse and there was a brief struggle, police said. But the man pulled the purse away and ran back to the waiting car, got into the passenger side and the vehicle fled in a grey minivan or hatchback toward Amarillo Avenue. A witness told police that it turned east toward W. Bayshore Road.
The victim said she had pain in one of her hands but she declined medical attention.
The victim described the robber as a male of unknown race between 18 and 22 years of age, wearing a black or blue hooded sweatshirt with white lettering. The victim did not see the driver of the getaway vehicle.
Anyone with information about this incident is asked to call police at (650) 329-2413. Anonymous tips can be e-mailed to paloalto@tipnow.org or sent via text message or voice mail to (650) 383-8984.