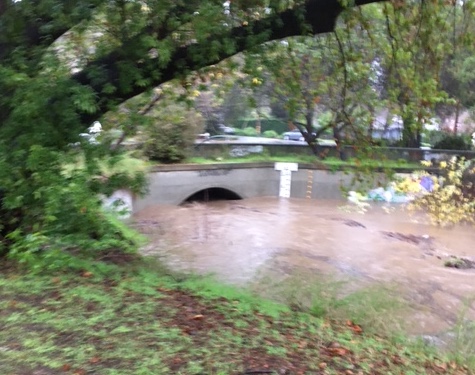 By the Daily Post staff
The National Weather Service says Palo Alto will be under a flood watch on Wednesday (Jan. 4) and Thursday, when there's a 100% chance of rain.
Most of the rainfall is expected to come down Wednesday afternoon and lasting until early Thursday morning. That means the flooding risk will be highest after dark.
In addition, the service says the area will be under a high wind watch on Wednesday.
There was only light rain today but El Camino Real remains closed in both directions under University Avenue.
On Saturday, San Francisquito Creek overflowed its banks in Palo Alto and Menlo Park, filling the streets with water so deep people could paddle board. See picture from the Linfield Oaks neighborhood.
The creek monitors, installed after the 1998 flood to let people know how high the water has risen, failed as the water levels were rising. The monitors at the Pope-Chaucer and Waverley bridges were fixed today, two days after the storm.
Also, the city of Palo Alto ran out of sandbags at its Rinconada Park sandbag station. The city had been handing out bags for free to help people protect their homes.
The city issued a statement today at 1:14 p.m. saying, "Crews are working on replenishing sandbag supplies at all Palo Alto locations by this afternoon. We are aware that supplies are depleted at this time."
The biggest problem was the Pope-Chaucer bridge, which is really more of a culvert below a road. During the 1998 storm, debris traveling down from Stanford clogged the culvert's opening, causing the water to rise on the west side of the bridge. The water overflowed, flooding thousands of homes.
In the 25 years since, Palo Alto, Menlo Park and other entities formed a Joint Powers Authority to replace the bridge and solve other problems that caused floods. But the bridge remains. It might be replaced in 2024, though previous dates for replacement have come and gone in the face of lawsuits and environmental reports.