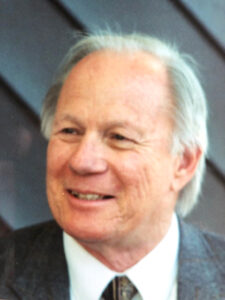 March 10, 1940 – October 12, 2022
Walter Shepard Janzen, 82, passed away on October
12, 2022, at El Camino Hospital after a struggle with pneumonia. He had suffered a stroke a few years earlier. Walter was born on March 10, 1940, in Utica, New York, to his mother, Gazelle Elizabeth Janzen and his father, Henry Francis Janzen. Walter had a younger sister, Valerie de Mer. Both his parents and his sister preceded him in death.
At age eight, Walter moved to Menlo Park with his family, where he excelled in school and belonged to numerous clubs. Walter graduated with excellent grades from Menlo Atherton High School and went on to study Civil Engineering at Stanford University.
While at Stanford, Walter met his future wife, Kathleen Suzanne Janzen. They were married in September 1960. Walter and Kathleen settled down in Palo Alto and raised three children, Kathleen Marie Freeman, Walter Patrick Janzen, and Eric Bruce Janzen. Walter and his wife Kathleen celebrated their 62nd wedding anniversary this year.
Walter was a devoted father and enjoyed participating in youth activities, such as YMCA Indian Guides, Cub Scouts, Boy Scouts, coaching Little League baseball teams, and helping his children with their homework (especially mathematics). Walter also enjoyed spending time with his six grandchildren, Jessica Lovelace Rainbolt, Kaitlyn Nicole Freeman, Connor James Freeman, Kendal Phoenix Janzen, Caden Essex Janzen, and Shane Patrick Janzen.
Walter enjoyed social activities with family and friends, including square dancing, cruise vacations, family reunions, Stanford alumni reunions, and he had a fondness for good food and desserts. Walter was also a handyman around the house and quite good at woodworking, home repairs, and building things.
Walter was baptized by the Church of Jesus Christ of Latter-day Saints in 1990 and found his calling and community there. He became very active in the church for the rest of his life.
Walter worked for 58 years in the commercial construction industry as a civil engineer and estimator, most recently with Vanguard Construction Company. Walter was dedicated to his work and was well liked and respected by his colleagues.
A service will be held for Walter on November 19 at 1:00 p.m. at the Church of Jesus Christ of Latter-day Saints, 3865 Middlefield Rd., Palo Alto.