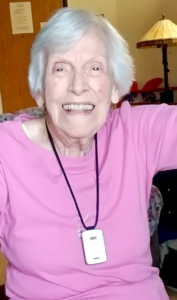 December 13, 1924 – October 15, 2022
Fauneil Elaine Hooker Thompson was born in Dixon, NE on December 13, 1924 and went home to be with the Lord on October 15th 2022 in Grants Pass, OR. When she was six months old her family moved to Palo Alto, CA where she spent the majority of her life. She moved to Grants Pass, OR in December 2016 to be closer to her children.
Fauneil graduated from Palo Alto High School in 1942.
She lived in Seattle, WA for several years. Upon returning to Palo Alto, she worked as a bookkeeper for Freedman Sandgroff where she met her future husband, Hugh Lester Thompson. They were married January 12, 1954. She was a member of Peninsula Bible Church for over 40 years.
Fauneil is survived by three children, a daughter Corlee (Dan) Davis, and two sons, Mark and Tracy (Phi). Along with her husband, she is preceeded by two sons, Bill and Scotty. She had nine grandchildren, and seventeen great grandchildren. Also survived by many nieces and nephews.
Memorial services will be held at Peninsula Bible Church (PBC), 3505 Middlefield Road, Palo Alto, CA 94306 on Saturday, November 19, 2022 at 1:00 pm.