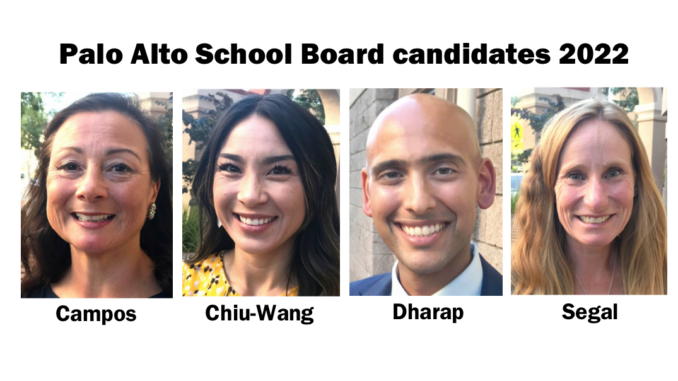 BY BRADEN CARTWRIGHT
Daily Post Staff Writer
Palo Alto school board candidate Shana Segal had a strong last month of fundraising that was boosted by local support, putting her neck and neck with Nicole Chiu-Wang for the most donations.
Out of Segal's 25 donors in the last month, 23 came from people with a Palo Alto address.
Chiu-Wang had 22 donors in the same time frame, and nine were from Palo Alto. That's 40% of her donors, compared to 92% for Segal.
Segal has raised $28,875 as of Oct. 22, while Chiu-Wang has raised $28,954, according to campaign finance forms.
Segal is a teacher and educational consultant who wants to help teachers better meet students at their learning levels.
Chiu-Wang is a lawyer turned entrepreneur who now works at Google. With her oldest son entering the district this year, she wants to change how schools measure success by putting less emphasis on standardized testing.
Chiu-Wang is endorsed by the majority of the current board, including one of her opponents, incumbent Shounak Dharap.
Dharap has raised $5,185 as of Oct. 22, with six donors in the past month. Stanford professor emeritus Jeff Ullman gave him the most ($1,000), and all of Dharap's donors were from Palo Alto except for the Dean Democratic Club of Silicon Valley ($250).
Dharap is running on the district's accomplishments during his first four-year term, which was impacted by the pandemic. He voted for the district to hire its own therapists, to restore online public commenting and to create a student achievement plan.
The final candidate in the race for two seats is Ingrid Campos, who has raised $6,718, according to campaign finance forms.
Campos has come under fire for her comments about the LGBTQ community. She said she wanted to ban Scholastic because they promote a "deviant lifestyle" with books that have LGBTQ themes.
Segal, Chiu-Wang and six of the seven candidates for Palo Alto City Council held a rally in front of City Hall on Oct. 16 to denounce Campos.
Campos had two people donate over $100 in the past month: Jo'Anne Zschokke of Palo Alto ($100) and Amy Lee of Los Altos ($500).
Segal has received donations from Mayor Pat Burt ($500), former Yahoo CEO Marissa Mayer ($1,000), the California Teachers Association ($1,000), Palo Altans for Sensible Zoning leader Joe Hirsch ($100), former mayor and school board member Camille Townsend ($150) and Palo Alto City Council candidate Brian Hamachek ($100).
Chiu-Wang's donors include the Asian Pacific Islander Empowerment PAC ($300), Democratic Activists for Women Now ($500) and the Dean Democratic Club of Silicon Valley ($250).
Several of her donors are from San Francisco, where she moved from earlier this year, and Ranchos Palos Verdes, where she grew up.