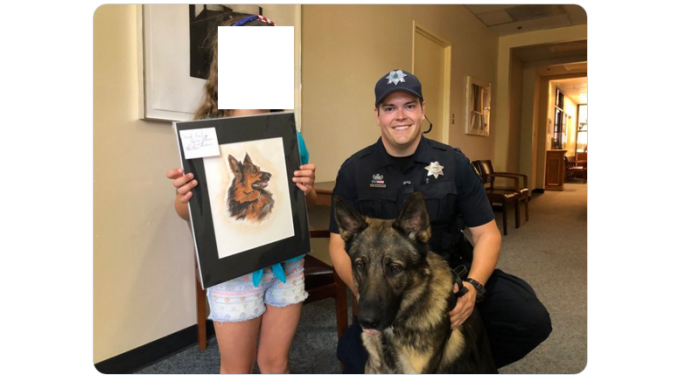 By Braden Cartwright
Daily Post Staff Writer
A police dog and an officer are getting ready to take to the streets of Palo Alto, restarting a program that has been on pause since June.
Palo Alto police deploy dogs to apprehend suspects by biting them and to search for drugs, explosives or personal items.
The officer and dog are in training until next month, and the department isn't identifying the officer until they're done.
"We'd like to wait until both handler and canine have successfully passed their training before discussing them in any detail," Capt. James Reifschneider said. "While we don't anticipate that either will be unable to do so, it is always a possibility."
Palo Alto police have been working without a dog team since two dogs retired from working with Agent Nick Enberg and Officer Julie Tannock.
Incidents with dogs
Palo Alto's dogs bit people five times over the course of two years, according to a memo from then-Chief Bob Jonsen in March 2021.
Some of those bites have put the city in legal trouble.
On April 7, 2016, a Palo Alto High School senior named Tajae Murray was mauled by a police dog at a street corner when officers were responding to a report of someone with a BB gun.
Police officers said they didn't intend to release the dog, but the dog jumped out of the window.
Murray received a $250,000 settlement in April 2018.
On June 25, 2020, Enberg ordered his dog, Balko, to bite Joel Alejo, who was innocently sleeping in his backyard. Police were searching for a kidnapper in Mountain View, and Enberg was surprised by Alejo, who had no connection to the case.
Alejo received a $135,000 settlement from the city in January.
On Oct. 10, 2021, Enberg sent Balko up a stairwell in downtown Palo Alto to go after a suspect who allegedly attacked a gay man in his 60s while yelling homophobic slurs, and then ran from police.
The suspect, Alexander Furrier, filed a legal claim against the city saying that Balko bit him for longer than was reasonable or necessary, even though he wasn't threatening any violence.
The city rejected Furrier's claim, opening the door for him to file a lawsuit.
Dog policy
Police dogs are supposed to be deployed in the following instances, according to the department policy manual:
· When there is a reasonable belief a suspect poses an imminent threat of violence or serious harm to the public or an officer.
· When a suspect is physically resisting or threatening to resist arrest and the use of a dog reasonably appears to be necessary to overcome such resistance.
· When a suspect is believed to be concealed in an area where entry by other than the dog would pose a threat to the safety of officers or the public.
Dog handlers must live within one hour of Palo Alto, in a single-family home with a locked garage and a fence. They must agree to be assigned to the position for at least five years and take care of the dog when they're off duty, the manual says.
The department wants to restore a second dog team once more officers are hired but there isn't a timeline for doing so, Reifschneider said.