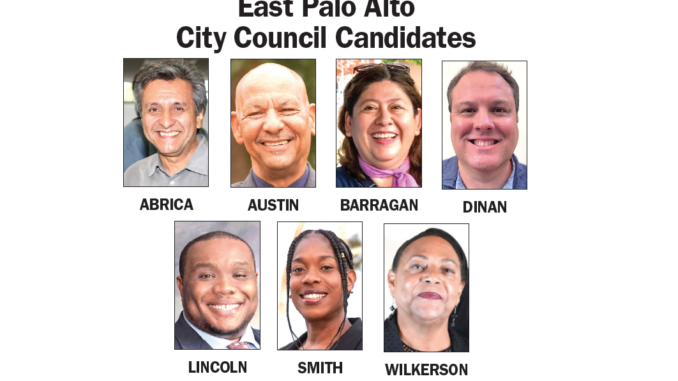 BY EMILY MIBACH
Daily Post Staff Writer
Phasing out the Palo Alto airport, improving the city's water system, and building housing and parks are among top priorities for the seven candidates seeking two seats on the East Palo Alto City Council.
The Post also asked the candidates about improving the city's water quality after a report by nonprofit Nuestra Casa said that many residents don't trust the quality of their water and buy bottled water.
Ruben Abrica, 73, is the only incumbent seeking re-election, as Regina Wallace Jones opted not to run again.
Abrica has been on the council for over 20 years after serving on city's first council from 1983-1988 and returned to council in 2004. He says his long record of public service to the city is what makes him stand out from the others running. He is a professor at DeAnza College and was part of the committee to make EPA a city in 1983.
He has endorsements from the San Mateo County Labor Council, SMC Latinx Democratic Club, Peninsula for Everyone and the San Mateo County Democratic Party.
Goals for his next term include working with various entities, including Palo Alto, to explore phasing out the Palo Alto airport because residents in EPA have to deal with the air and noise pollution from the airplanes. He said the airport is dangerous, bringing up a 2010 plane crash into a building on Beech Street.
Abrica also wants to work with the police department to have officers without guns or weapons out on the street and talking with residents.
Abrica lists many accomplishments over his long record leading in the city, including working on the city's water infrastructure plan. On Tuesday, the council approved spending $8.5 million to replace two water mains that go through town. Abrica said he is interested in seeing the rest of Nuestra Casa's findings, including where the water quality was the worst in town.
Webster Lincoln, 35, is a scientist at Genentech, his prior community service includes serving on the sanitary district's rate advisory committee, supporting nonprofits in EPA, including the East Palo Alto Community Archive. He's been endorsed by the San Mateo County Latinx Democratic Club.
Lincoln says having grown up in East Palo Alto, running for council is a way to give back to his community and advocate for EPA residents. His top priority if elected would be housing. He wants to find ways to provide residents pathways to long-term affordable housing, which includes getting more housing built and continuing to protect tenants from rent increases and unjust evictions.
When it comes to water, Lincoln, whose mother is Niambi Lincoln, the general manager of the Palo Alto Mutual Water Company, one of three water companies that serves EPA residents, said he is not an expert on water quality. But, he knows there is a need in the city to replace aging infrastructure. He says between grants and revenue generated from new construction, the city could pay for the improvements.
Lincoln narrowly lost to Antonio Lopez in 2020 for a seat on the council. He filed two lawsuits, one of which was against a man who posted negative comments about him on social media. Lincoln won that case last week. The other claimed Lopez was electioneering when he arranged for tacos to be handed out at a polling place on election day. Lopez prevailed in that case.
Jeffrey Austin, 61, is a longtime resident, who currently works as the security lead for the nonprofit WeHope. He has spent many years volunteering with the community, spending 15 years organizing youth sports, and has been on the city's Senior Advisory Committee for six years.
He was recently appointed to the county's commission on aging in San Mateo County. He's been endorsed by the San Mateo County Democratic Party, council members Lisa Gauthier, Carlos Romero and Antonio Lopez, planning commissioner Ofelia Bello and former mayor Duane Bay.
Austin says over his years of community service, he's built multiple collaborative relationships across the city and knows how to get things done in the community.
His top priority if elected is infrastructure — primarily related to water and the sanitary district.
"All other issues will be hinged upon our ability to deliver clean water as well as enough water to satisfy what is currently here and what we wish to develop. This is a clog that needs to be addressed ASAP," Austin said.
Austin wants to get the infrastructure fixed as soon as possible, but realizes the issue is complex. He suggests getting a training program up and running so residents can become licensed plumbers and would be able to help with some of the infrastructure issues. Austin also mentioned that he'd want to examine the city's water agreements and see if there is any way the city could be getting more water.
Quenton "Q" Smith, 53, is a life-long resident and a current planning commissioner. She says her foundation as an EPA native would help her as a council member and that the city's residents is its best and most valuable asset.
Her top priority would be offering the best experiences and opportunities to the city's residents to improve residents lives and futures.
Smith calls for the city to work with the community, appropriate authorities and other water districts to find "the proper solution for water quality concerns."
Mark Dinan, 49, is a software recruiter who is on the city's Public Works and Transportation Commission. He was also on the county's Board of Supervisors redistricting commission in 2021. He runs and manages the at times controversial East Palo Alto Neighbors Facebook page. In 2020, he ran unsuccessfully for the sanitary district. He's been endorsed by councilman Antonio Lopez, former mayor Bill Vines and Menlo Park Fire Board members Robert Jones and Virginia Chang Kiraly.
Dinan is running with his neighbor Martha Barragan to bring "positive changes to EPA." This includes improved park management, more housing, parking regulations and safe and secure streets.
Dinan says he "gets stuff done" such as leading projects to get air quality sensors installed, and clean ups along the Bay Trail.
Dinan says the city needs to invest in its water infrastructure. But, said he would be interested in exploring what options the city would have to take over Palo Alto Park Mutual Water and make Hetch Hetchy water available to everyone in town. He also said the town needs to encourage the rebuilding of the city's aging housing stock to make sure everyone has modern plumbing that meets current health and safety standards.
Martha Barragan, 44, did not return the Post's candidate questionnaire. She grew up in East Palo Alto and is a local teacher and is running as a slate with Dinan. On their website, Barragan says it is time the council gets some fresh perspective since the council has no term limits. Her priorities include improving streets and reducing traffic, which includes making sure police enforce traffic regulations. She also wants to increase activities for children in town, including making sure parks are a haven for residents.
Gail Wilkerson, 73, also didn't return the Post's candidate questionnaire. But on the Voter's Edge website says her top priorities are to pay attention to the city's residents, improving the city's quality of life and stopping overcrowding, including too many cars being parked on the street. She's served on the city's Senior Advisory Board and has a background in real estate, having owned and operated a real estate and tax office. She said at the council's Tuesday meeting that she's never had issues with the water, and in fact was told by doctors that the city's water is good because it has fluoride in it. But, she knows people who get their water from the other water companies and have had problems with their water. She said residents should get filters installed in their homes. However, many residents on the west side are renters and landlords don't always want to install a filter.