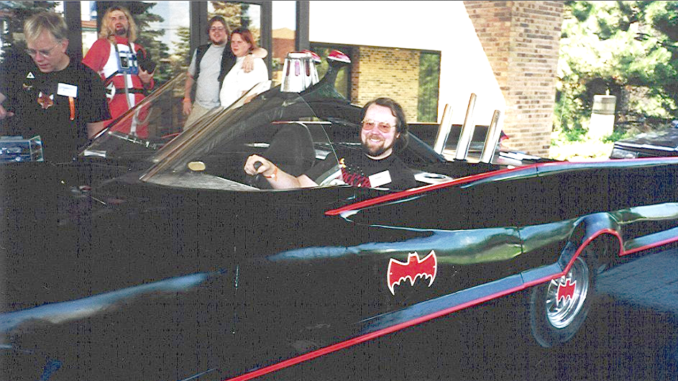 BY EMILY MIBACH
Daily Post Staff Writer
San Mateo County District Attorney Steve Wagstaffe said today he is dismissing all charges against an Indiana auto shop owner accused of withholding a $210,000 Batmobile replica from an Atherton realtor in a dispute over payment.
On July 19, the DA's office charged Logansport, Ind., Batmobile-maker Mark Racop with a felony by false pretenses and felony diversion of construction funds.
The charges followed a raid of Racop's auto shop by San Mateo County Sheriff's officers. During the raid, officers handcuffed and searched Racop.
The search and charges drew international news attention. Then Wagstaffe paused the criminal case in early August in order to get further information.
"After consideration of all the facts and circumstances presented to this office, it is my conclusion the evidence does not warrant criminal prosecution. Instead, I have concluded the actions of Mr. Racop are best dealt with in civil court proceedings," Wagstaffe said in a statement today.
The case began when Atherton realtor Sam Anagnostou filed a civil suit against Racop. Anagnostou said he ordered a Batmobile from Racop and made several payments. But Anagnostou didn't make the final payment, so Racop moved the realtor to the back of the line for delivery of Batmobiles.
Anagnostou's lawsuit was thrown out of court.
Then Anagnostou then went to Sheriff Carlos Bolanos, who assigned the case to the Vehicle Theft Task Force, which carried out the raid of Racop's auto shop and submitted the case to the DA, which filed criminal charges.
The Batmobile case hit the news in early August. Wagstaffe threw the brakes on the prosecution while his office investigated the situation. And the Board of Supervisors hired a retired judge to do its own investigation.
The supervisors also asked after state Attorney General Rob Bonta to investigate Bolanos' handling of the case. But Bonta's office said in a Sept. 14 letter that the supervisors failed to allege any crimes that occurred in the handling of the case.