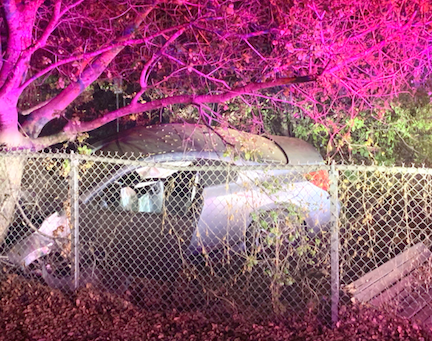 By the Daily Post staff
A car chase that ended in a crash by Gunn High School started after deputies tried to pull over a driver for a traffic violation, a spokesman for the Santa Clara County Sheriff said Wednesday.
Deputies tried to stop Eric Garrett, 25, of Berkeley, on Foothill Expressway at Edith Avenue, just west of donwtown Los Altos around 9 p.m. on Tuesday.
He drove off "at a high rate of speed, leading deputies on a chase for about a mile until he lost control and crashed into a tree on Miranda Avenue and Arastradero Road, police said.
Garrett was taken to the hospital to be sure that he had no injuries, and then he was arrested on misdemeanor charges of evading law enforcement, Deputy Russell Davis said.
The pursuit lasted about a minute, Davis said. He wasn't sure why deputies were trying to pull Garrett over.