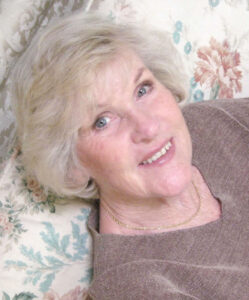 January 21, 1937 – August 26, 2022
The elegant Eileen Hope Maddalena passed away peacefully at the age of 85. Born Jan 21, 1937 in Sheffield, England, surviving the bombings and rations of WWII.
Traveled through Europe, Canada, with the Bluebells dance troupe. Settled in Los Altos as a newlywed to Freddie Maddalena of Toronto.
She passed away peacefully from Alzheimer's surrounded by her loving family and caregivers.
Eileen joins her parents Albert and Gertrude Pickles. She enjoyed 49 wonderful years working alongside her husband Restaurateur Freddie Maddalena, who passed away on May 5th 2016.
She leaves behind her siblings Derick, Ivan, and June as well as children Mia (Matt) Alioto and Paul (Sarah) Maddalena. Was a loving "Nana" to her grandchildren Marcello, Enzo, and Reno.
A Celebration of Life will be held in October; please contact Mia Alioto for details.