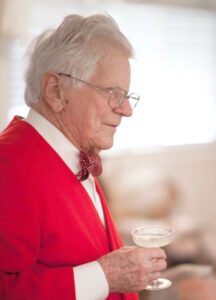 January 4, 1926 – August 10, 2022
Long-time Palo Alto resident Arthur "Art" Adams Jr., 96, passed away peacefully August 10th, 2022.
Born in Kansas City, MO, Art was the son of the late Arthur F. Adams and Catherine E. Markey- Adams. Art was also the brother of the late Dorothy Adams- Gibbons.
Those left to lovingly remember Art include: his wife, Frances Celle-Adams; son Arthur Adams III and husband Devin Baker, daughter Jeannine Baskins; grandchildren Laura, Adam, Luke, Michael and countless friends.
Art proudly served in World War II, enlisting as a 17-year-old eager to serve his country. Following his service, Art attended and graduated from the University of Illinois earning a degree in engineering.
Art went on to work for Cook Electric and Lockheed Martin, although he was most proud of his time spent working with the Redwing atomic program for the United States government.
An avid collector of vintage radios and a self-proclaimed garage sale aficionado, Art spent his later years as a volunteer for the Museum of American Heritage, traveling with his beloved wife, and scouring the local garage sale circuit every Saturday morning.
A Memorial Mass will be held in Art's honor on Saturday, September 10th at 2:00 PM at St. Albert the Great Church in Palo Alto. Following the Mass light refreshments will be served in St. Albert the Great Hall. In lieu of flowers, the family suggests donations be made to the charity of your choice.