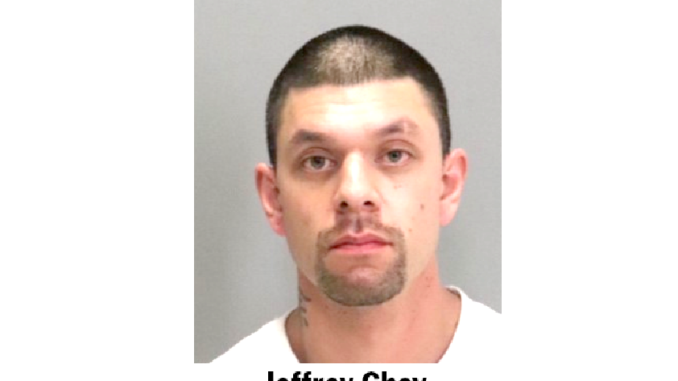 By the Daily Post staff
SUNDAY, 5:20 p.m. — A 33-year-old Stockton man was arrested today (July 17) in Fremont on suspicion of the non-fatal shooting of a Mountain View police officer a day earlier, police announced today.
Jeffrey Choy was arrested by Mountain View police and U.S. Marshals following a foot chase in Fremont shortly before noon, according to Mountain View police.
Police said he was "the primary and only suspect" wanted for shooting a Mountain View police officer who had pulled him over shortly after midnight Saturday morning on Villa Street and Wild Cherry Lane. Choy allegedly shot the officer at close range and then drove away, only to crash his car down the street at Villa and Higdon Avenue, police said. Choy then jumped out of his car and ran. Police searched the area but couldn't find him.
The hunt then moved to the other side of the Bay. Mountain View police and U.S. Marshals went to Union City to look for Choy. The found him in Fremont, and arrested him after a brief chase.
SUNDAY, 2 p.m. — Mountain View police said today they have arrested a man suspected of shooting and wounding an officer during a routine car stop downtown a few minutes after midnight on Saturday morning.
A statement from police said they would release more information later today.
SATURDAY, 10:30 a.m. — A Mountain View Police Department officer was wounded in a shooting during a routine car stop shortly after midnight this morning downtown, police said.
The shooter is at large. The officer, a five-year employee of the department, is hospitalized but his wound is not life-threatening, police said.
Shortly after midnight, an officer was conducting a traffic stop at Villa Street and Wild Cherry Lane when a person inside the vehicle fired at the officer, police said.
The officer suffered a gunshot wound to his upper body.
The officer did not return fire, and the car sped away.
Following the shooting, the suspect crashed his car at Villa Street and Higdon Avenue and fled on foot.
Police said they began a large-scale search around the downtown area that included the use of a helicopter.
Police said they know the identity of the suspect but aren't releasing it "given the ongoing investigation."
However, he is considered armed and dangerous.
The officer was said to be on overtime conducting a routine DUI patrol.
"I am forever grateful that this was not a tragedy for our MVPD family," said Mountain View Police Chief Chris Hsiung. "Our officers go out every day, not knowing what they may encounter on patrol. All department resources have been dedicated to this investigation and I have full faith we will apprehend this suspect."
A number of neighboring police agencies have been assisting Mountain View police including the Sunnyvale Department of Public Safety, the Santa Clara Police Department, the CHP and the Santa Clara County Sheriff's Office.