UPDATE 9:30 P.M. TUESDAY — All evacuation orders have been lifted, and residents can return home, but be ready to leave if needed.
The fire is currently 20 acres and 5% contained.
Nearly 15,000 buildings are without power in San Mateo County, according to PG&E.
Stanford is without power and is telling employees to work from home if they can, classes, camps and conferences are all canceled as well. However, the power is still on at Stanford's Redwood City campus, SLAC and Stanford Research Park.
Firefighters, PG&E and sheriff's deputies will be in the area throughout the night.
4:45 P.M. TUESDAY — Cal Fire Battalion Chief Ethan Peterson said a six-alarm fire in the Edgewood Hills area above Redwood City has burned 20 acres and prompted evacuations.
Peterson said that the fire has been holding steady at 20 acres in the areas around Maple Street. He also said that more fire trucks and air support will be responding.
"It's looking good right now," said Peterson. "If we can hold it at 20 acres, it will be looking good."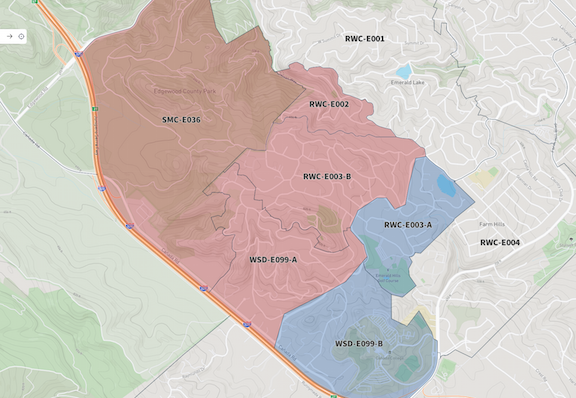 The evacuation zones for the Emerald Hills fire.Firefighters initially responded to the fire shortly after 2:20 p.m. in the area of Edgewood Road and Crestview Drive and the CHP reported that smoke was visible from Interstate 280.
The Sheriff's Office ordered evacuations for residents in Zonehaven zones RWC-E002, and RWC-E003-B and WSD-E099-A, and is advising but not ordering evacuations for RWC-E003-A and WSD-E099-B. People can search for their evacuation zone at https://community.zonehaven.com/.
People evacuating are being asked to go to a temporary center being set up at 1455 Madison Ave. in Redwood City.
Stanford University also reported impacts as a result of the fire, with a power outage affecting many parts of the campus due to a downed PG&E transmission line, school officials said on Twitter.
Smoke from the fire may be visible from campus but there is no threat to the campus as of late Tuesday afternoon, Stanford officials said.
There will be an in-person media briefing about the fire at 5:30 p.m. at the Woodside Fire Station 19, 4091 Jefferson Avenue in Redwood City. — Staff and wire reports