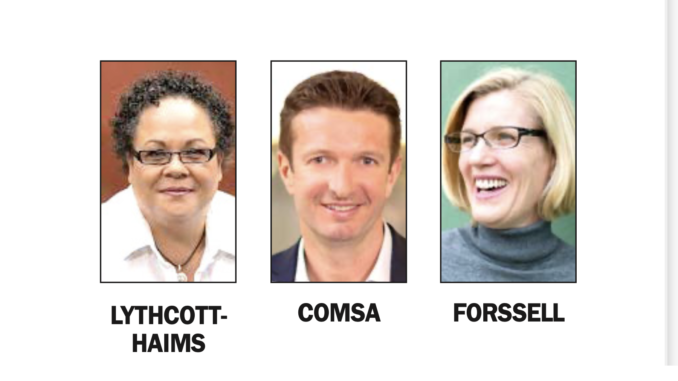 This story first appeared in Monday morning's Daily Post. If you want to get local news first, pick up the Post in the mornings at 1,000 Mid-Peninsula locations.
BY BRADEN CARTWRIGHT
Daily Post Staff Writer
An activist, a realtor and an Apple designer have filed their paperwork to run for Palo Alto City Council in November.
The candidates would join Ed Lauing, a planning commissioner who is backed by the slow-growth majority on council, in a race for three open seats. Two incumbents are term limited and a third said she won't run for re-election.
None of the prospective candidates were ready to officially announce their candidacies or explain their positions last week, but they had information available online. 
Julie Lythcott-Haims, 54, used to be a practicing lawyer and a dean of freshman at Stanford. Now, she is an author and a public speaker who gives talks on parenting and being black, according to her website.
Lythcott-Haims has written three non-fiction books, including the best seller, "How To Raise An Adult," which talks about how helicopter parenting harms children. Her second book, "Real American: A Memoir," details her life "growing up black and biracial in white spaces," and her third book is a guide for young adults.
Lythcott-Haims has given TED Talks and spoken at local high school graduations. She couldn't be reached for comment on Friday.
Alex Comsa, 49, is a realtor for Coldwell Banker. He oversees a team called the "Comsa Group" that specializes in luxury homes in the Silicon Valley, according to his LinkedIn.
Comsa said Friday that he is still thinking about whether he has time to dedicate to a campaign. He said he is going to Argentina for a couple of weeks to visit his son, and he will decide on running when he gets back.
Lisa Forssell, 51, has been on the Utilities Advisory Commission since 2016. She was appointed to the board twice by City Council to give advice on electric, gas and water projects.
Forssell works as a producer in the design studio at Apple, and she was a technical director at Pixar Animation Studios before that, according to her biography on the city's website. 
Forssell received two degrees from Stanford in 2015, and her master's project was a study of the effects of electric vehicle charging on the power grid — a topic the Utilities Advisory Commission is working on now.
Forssell said in an email Friday that she is having conversations with neighbors and city leaders, exploring a potential run. She said she will make a decision in the coming weeks.
The balance of council could swing in the election. Currently, there's a 5-2 split between the slow-growth, Residentialist majority on council and the pro-development side of Councilwoman Alison Cormack and Councilman Greg Tanaka. Cormack isn't running again, while Councilmen Tom DuBois and Eric Filseth can't run due to term limits, leaving the Residentialists with three incumbents.
The deadline for candidates to file for council is Aug. 17.
The Post will interview the candidates on their positions as they announce their campaigns.