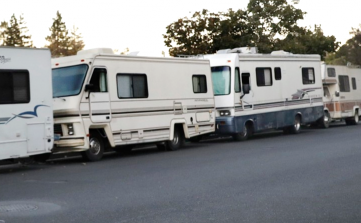 BY BRADEN CARTWRIGHT
Daily Post Staff Writer
Mountain View City Council is pushing RV dwellers from neighborhood streets to office areas.
Council passed an ordinance on Tuesday (May 24) that bans oversized vehicles on another 37 residential streets narrower than 40 feet. They also newly allowed overnight parking on 30 streets, mostly in commercial areas.
Vice Mayor Alison Hicks said businesses and property owners aren't happy about seeing more RVs. She said several have contacted her to see what they can do about it, she said. "I'm happy to see that now that this problem may be more visible, they may want to partner and help solve the problem," she said.
In 2020, 57% of Mountain View voters approved a ban on large vehicles parking on streets less than 40 feet wide. The ban applied to 444 streets, or 89% of the city. A consultant measured 72 miles of roads with a laser scanning system in March and April, and found another 37 streets that qualified.
The signs went up on narrow streets last August, but police aren't enforcing the ban yet because a group of RV dwellers is suing the city. They argue that the ban is discriminately forcing poor people out of the city.
The city agreed to put off enforcement until July 4 while the two sides discuss a settlement.
Complaints led to signs
The commercial streets that will now be open for overnight parking were evaluated in light of the oversized vehicle ban. Public Works Director Dawn Cameron said the signs were put up because of complaints, but they don't actually correspond to traffic safety.
The signs aren't justified, nor were they put up in all similar locations, Cameron said.
In April 2022, the city mailed notices to property owners along streets with signs banning overnight parking. They got 57 responses, and 48 people said they were concerned about allowing overnight parking. Most of their complaints were about losing parking or road space for themselves.