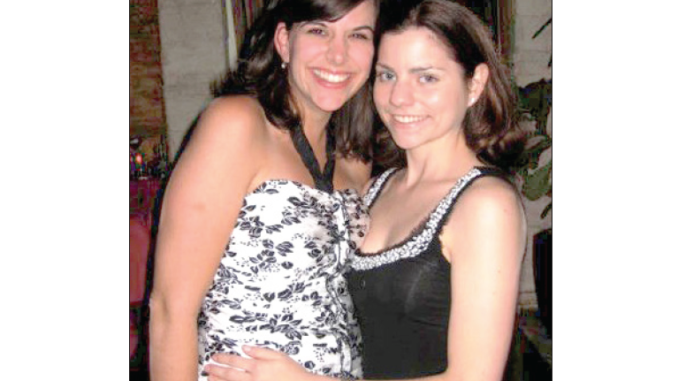 Katie Chargin, right, who died homeless on the Stanford campus Feb. 7, is seen in 2011 with her friend Hannah Crowder. Photo provided by Crowder.
BY BRADEN CARTWRIGHT
Daily Post Staff Writer
Before Katie Chargin, 36, became addicted to drugs and died in her tent at Stanford on Feb. 7, she was a bright and loving person, her best friend Hannah Crowder said.
Chargin loved singing, musicals and hosting parties, and she dreamed of having her own family. She could easily capture the attention of a room, and she always made sure that her friends felt comfortable, Crowder said.
"She was just constantly vibrant," Crowder said.
But Chargin's life was derailed by her addiction, which began when her mother died in 2014, Crowder said. She became zombie-like and only cared about her next fix, and her friends decided they couldn't be around her anymore, Crowder said.
Chargin became homeless after she was laid off from her job at a sandwich shop at the beginning of the pandemic. A year and a half later, her body was found in an unmaintained, woody area at the corner of El Camino Real and Palm Drive. She died from meth toxicity, malnutrition and Covid, the Santa Clara County Coroner determined.
Chargin was born on Aug. 29, 1985. Linda Chargin and Dennis Chargin, who worked as a medical assistant and a builder, adopted her and raised her in Menlo Park and San Jose. She had two older brothers, Tony and Joe.
Katie and Linda Chargin's lives and identities were very much intertwined, Crowder said. Linda loved being a mom, and she had always wanted a daughter.
Katie felt like her mom had chosen her, Crowder said.
"She very much wanted to be like her mom, and raise kids like her mom raised her: to be kind and compassionate," Crowder said.
A strong friendship grew
Chargin graduated from St. Francis High School and went to Santa Clara University to study music. She met Crowder, of Palo Alto, in a choir class their freshman year, and they bonded over singing and having no other friends that were from the area.
Crowder and Chargin enjoyed going to see musicals and concerts in the city together, and they went on walks and visited each other's home for dinner. They became part of a larger group of friends in college. Chargin introduced them to her high school friends, and they all hit it off, Crowder said.
Chargin married a man who was 10 years older when she was 21. The new couple said their vows at a church in Menlo Park and then bussed their guests to a lively reception on top of a hotel in San Francisco, Crowder said.
Chargin and her husband's house became a place where her college friends could come for dinner and act like they were older, Crowder said. Chargin always made sure her guest had a drink, a comfortable spot to sit and someone to talk to, Crowder said.
After Chargin graduated from college in 2008, her mom became sick with lupus. With Chargin's dad working and her older brothers living in Los Angeles, she became her mom's primary caregiver.
Chargin worked at some restaurants too, but taking care of her mom was her main purpose in life, Crowder said.
As time passed, her mom's health deteriorated. And Chargin and her husband divorced because she wasn't ready for a family yet, Crowder said.
When Chargin's mom finally died in March 2014, her purpose was lost, Crowder said. Her drug addiction began.
"I think she turned to something that would make it easier, to make the feelings go away," Crowder said.
It began with heroin
It started with heroin, Crowder said, which Chargin could get from her co-workers at a restaurant. She also had access to painkillers that her mom took, and probably did some cocaine too, Crowder said.
Chargin would slur her words and hardly knew where she was, and she stopped being a good friend, Crowder said.
Crowder said their friend group talked about Chargin's addiction, and they decided they couldn't be around her when she was using. Chargin's dad re-married and moved to Palm Springs.
Chargin's brothers tried to get her into treatment with only short-term success. She got clean at times and was back to her usual, lucid self — but she always relapsed, Crowder said.
Crowder saw Chargin for the last time about three years ago. Crowder was pregnant with her first child, and she wanted to see if Chargin could be in their life. But Chargin was still out of it, and Crowder made the decision then to not see her again.
Other friends would get a short text here and there, but Chargin's number was always changing.
In March 2020, Chargin was working at Ike's Sandwiches in the SAP Center. When the arena closed because of Covid stay-home orders, Chargin was out of a job.
Chargin was living with roommates that she met in rehab. But when they moved out, she also had to find a new place. She found a room to rent online, but the other person living there wasn't stable or safe to be around, Crowder said.
She slipped into homelessness
All of Chargin's friends and family had moved away except for Crowder, who still lives in Palo Alto.
"There was no one left for her to fall back on," Crowder said.
Chargin became homeless.
Crowder doesn't know how Chargin ended up at Stanford. They spent time walking around the nicer parts of campus, so maybe she felt safe there, Crowder said.
When Chargin's brother called Crowder in February, she said she immediately knew that Chargin had died.
"I was devastated," Crowder said. "I was always hopeful that she would find her way back to rehab and get clean and be that old Katie again."
Chargin's body was cremated, and her ashes were buried with her mother. At a memorial, her friends also said they wished Chargin found a way to overcome her drug addiction.
"But it just wasn't meant to be," Crowder said.