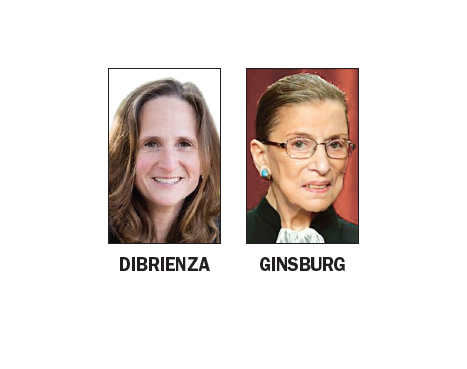 Palo Alto school board member Jennifer DiBrienza has paid $30,000 to buy a medal honoring Justice Ruth Bader Ginsburg.
DiBrienza said she hopes having Ginsburg's medal will be a "a reason to talk about her."
DiBrienza, who is also an education consultant, won the medal at an auction by Ginsburg's estate to raise money for the Washington National Opera, one of the late justice's passions.
DiBrienza said she spent nearly twice what she had planned to. When bidding near the end of the auction pushed up the price, she thought to herself: "I've been winning this for days. I can't give it up now," she said.
DiBrienza will also pay a 27% "buyer's premium," or $8,100.
DiBrienza said she recently protested with her three children against overturning Roe. V. Wade, which was revealed last week when a draft of the decision was leaked to the news media.
The National Women's Hall of Fame inducted Ginsburg and gave her the bronze medal in 2002. The auction house estimated the medal would sell for between $1,000 and $2,000, but like many other items, it went well over that price.
The auction raised $803,650 on 150 items.
Elizabeth Haynie Wainstein, the owner of The Potomack Company auction house in Virginia, said they were "just really blown away by the interest." A pre-sale estimate was that the auction could raise $50,000 to $80,000.
Ginsburg died of cancer at age 87 in September 2020. In her later years, the court's second female justice and liberal icon also become a pop culture figure known as the "Notorious RBG."
The biggest ticket item was a drawing of Ginsburg, which sold for $55,000. Other high-dollar sales included modern art that Ginsburg had collected. A terracotta Pablo Picasso jug she displayed in her living room sold for $25,000 while an earthenware Picasso plate that hung in her dining room sold for $22,500.
Even much less valuable Ginsburg pieces went for large sums. A drawing that one of Ginsburg's grandchildren, Paul Spera, made as a child showing his grandmother as the Statue of Liberty sold for $12,000.
Other sales included $5,000 for a glass souvenir vase given to attendees of a luncheon at the Capitol following President Barack Obama's first inauguration and $16,000 for a black mink coat with Ginsburg's name sewn in a pocket. — From staff and wire reports