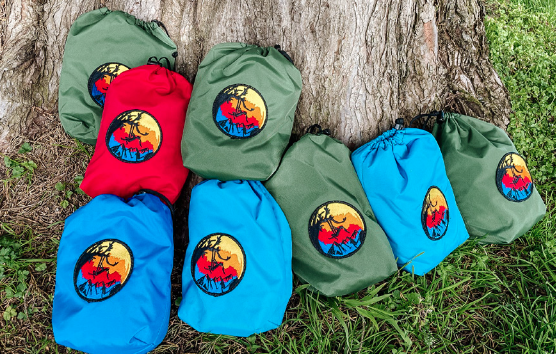 Whether you're backpacking in Yosemite or hanging out in your local park, sometimes you need a comfy place to sit – or a reason to have a little more fun. That's the idea behind the Pocket Swing.
Invented by East Palo Alto couple Angie Cabral and D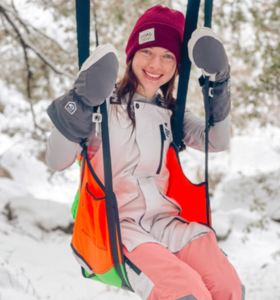 avid Lackner, the Pocket Swing is your portable seat and adventure. Made up of high-quality nylon with a 400-pound weight capacity, the swing is a lightweight, packable hanging chair that includes two nylon straps and two aluminum twist-lock carabiners. To use it, you just find a sturdy tree branch, toss the straps over the branch, and attach the swing at any of the 15 height rings. A side pocket can hold a drink or snack. It's great for a variety of outdoor activities from camping to concerts to backyard fun with your kids. And best of all, when you're done, you just stuff it back into its small bag.
Cabral and her partner Lackner both grew up on the East Coast before moving out to California for jobs as a biotech scientist and software engineer, respectively. Both dedicated backpackers, they have thrown themselves into exploring the Sierras and other wild terrain California has to offer. As all backpackers know, you don't want to tote around camp chairs, but it's not always fun to sit on a rock at the end of a long day of hiking.
"We started thinking, this could be so much more comfortable – and fun," said Cabral. "What about a swing?"
When Covid lockdowns struck in March 2020, they found themselves with some free time and decided to turn their idea into reality. After testing different designs, they found a small manufacturer in Missouri called Well Made Workshop and refined the product until they had a prototype they were satisfied with. The whole thing is designed and made in America, from start to finish.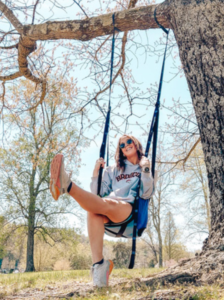 It's perhaps no surprise that some of their most positive feedback has come from moms.
"They like that it's really compact and easy," said Cabral.
"One of the moms said, 'it literally just lives in my car. When we get bored, we can set it up. It's easy to set up and take down.' Another mom set it up on the porch while it was a rainy day at their Tahoe cabin."
"We just love the idea of making the outdoors more fun," Cabral said.
The Pocket Swing is on Kickstarter, and the funding deadline is May 19. They only need to get about 15 more orders before they meet their funding goal and can send out the first batch of Pocket Swings. To find out more about the Pocket Swing and put in your own order, go to pocketswing.com.