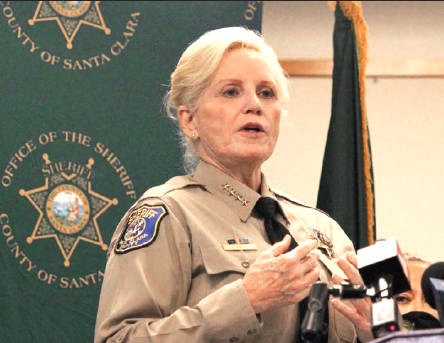 BY BRADEN CARTWRIGHT
Daily Post Staff Writer
A trial that could remove Santa Clara County Sheriff Laurie Smith from office will take place in September, three months before she is set to retire, a judge has decided.
Smith, 69, is facing a Santa Clara County Civil Grand Jury accusation for taking bribes and mismanaging the jail. A conviction comes with just one punishment: removal from office.
Smith is retiring when her sixth term ends in January 2023, but the case against her has proceeded anyways.
The prosecution, handled by deputies of San Francisco District Attorney Chesa Boudin, wanted a trial in July so the case still has meaning.
But Smith's lawyer, Allen Ruby, said he needed until next year to review more than 100,000 pages of evidence.
San Mateo County Judge Nancy Fineman decided on Saturday that the trial will begin on Sept. 13, 21 or 28. The exact date will be set on May 25. Boudin's prosecutors said it will take about 17 days.
Criminal in nature
The accusation by the Civil Grand Jury, which is made up of 19 residents, is civil by name, but criminal in nature. Civil grand juries file accusations when they believe a public official has engaged in "willful or corrupt misconduct" that falls short of a crime. The courts follow the same rules as a criminal case.
Smith is charged with giving out concealed carry weapons permits in exchange for campaign donations. She also is accused of mismanaging the jail, withholding documents and lying on campaign finance forms. She must be convicted of one count to be removed.