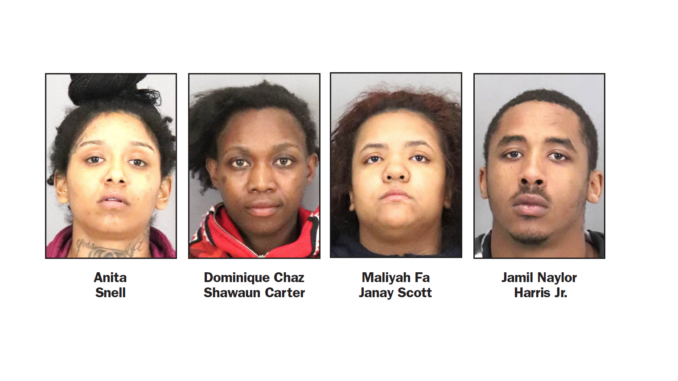 By the Daily Post staff
Four people have been arrested after stealing from Lululemon in downtown Palo Alto and hitting a truck as they fled, police said.
Their BMW was spotted going east on the San Mateo Bridge, and they were arrested in Hayward with clothes worth $5,800 in their car.
The Lululemon theft was reported at 2:07 p.m. on Friday. A minute later, another person called to report a hit-and-run crash at Homer Avenue and Cowper Street, police said.
Two women and one man went into the store, grabbed several clothing items and fled to a getaway car, police said. The driver ran a stop sign and struck a Toyota pickup truck, and then drove away, police said.
There were no injuries from the crash, and both cars sustained only minor damage.
The BMW was stopped in Hayward at 2:43 p.m. with five people inside, police said. Four of them were arrested for felony organized retail theft, and a fifth was released without charges while officers investigate.
The people arrested were:
• Dominique Chaz Shawaun Carter, 26, of Modesto
• Anita Snell, 25, of Modesto
• Maliyah Fa Janay Scott, 24, of Modesto
• Jamil Naylor Harris Jr., 20, of Stockton
Carter was also booked for hit-and-run and two outstanding warrants for thefts in Glendale and Monte Serreno. Snell was also booked for grand theft in San Jose.