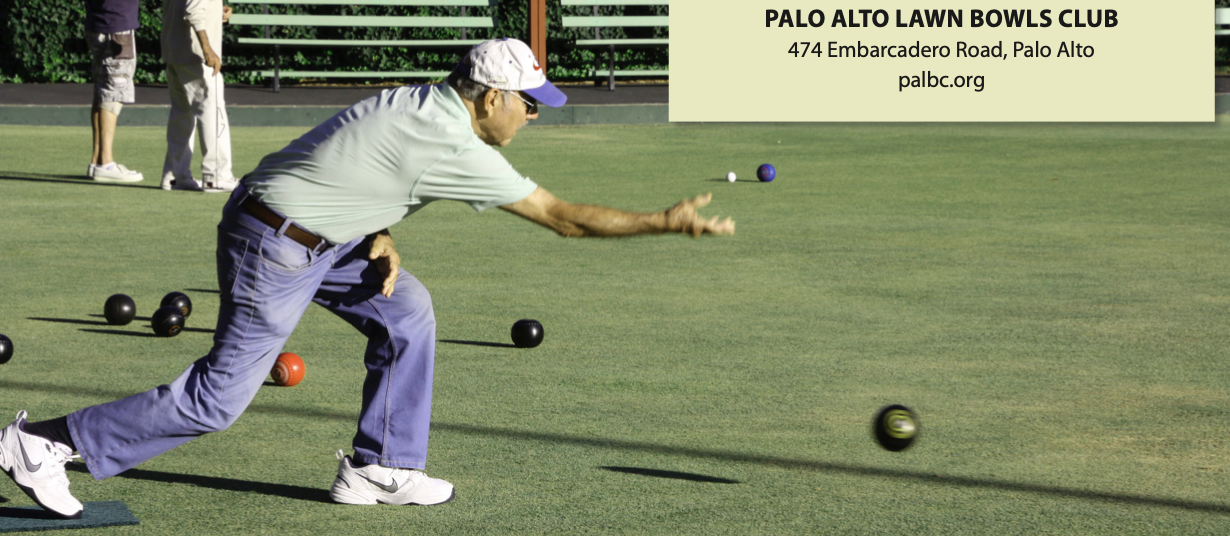 Looking for a fun, social outdoor activity you can enjoy with family and friends? Lawn bowling is the perfect sport for relaxing fun, and the Palo Alto Lawn Bowls Club is a beautiful and affordable spot to enjoy it.
Conveniently located right on Palo Alto's Embarcadero Road, next to Gamble Garden, the bowling green is an oft-overlooked local treasure as its beautiful greens are tucked away from the road.
Club board member Ginger Harris said lawn bowling is a cousin of sorts to bocce and similar sports, but with more strategic play involved. And the club makes drop- in play a piece of cake.
"We give free introductory lessons to people," Harris said. "We have all the equipment they need. All you need are flat shoes."
The club and its sport make socializing easy, whether you come by yourself or with companions.
"The scheduled draw games five days a week welcome individual players and we make teams," Harris said. "You can come by yourself or bring family and friends."
She said she and her husband discovered the sport by happenstance several years ago when they visited Gamble Gardens, looked over the fence and saw players who beckoned them over to try it.
"Now we're fanatics," Harris said. It's our sport of choice and we've gone to both social events and competitions all over the country."
Membership in the club is only $135 a year and lets you have a key to the club so you can play whenever you like, whether it's a sunny Saturday afternoon or a weekday evening after work.
"It's very adaptable to people's schedules," Harris said.
In addition to well-maintained greens, the clubhouse is available for rent for all kinds of events, including corporate functions and team-build activities, wedding rehearsal dinners, family reunions, birthday parties, retreats and more. In addition to a social room that can seat up to 65, the clubhouse has a lighted brick patio, so larger events can host up to 100 guests. The clubhouse also has a full kitchen, so catering is a cinch.
Want to see if lawn bowling is for you? Drop in some Sunday at 1:30 p.m. (as long as it's not raining) and a coach will be on the green to get you started. If you need a different time, contact John Hickson at j.hickson@sbcglobal.net or call (650) 367-9499 to schedule a free introductory lesson.