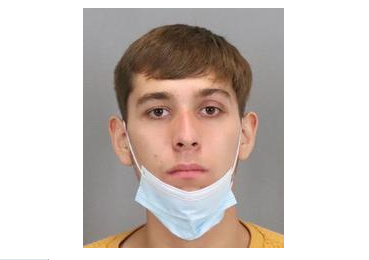 BY BRADEN CARTWRIGHT
Daily Post Staff Writer
The family of an 80-year-old man who was randomly stabbed in Palo Alto's Crescent Park neighborhood is speaking out against a proposal that the defendant receive a "mental health diversion," which would mean he would get treatment rather than jail time.
Eighteen months after Allan Connell was brutally attacked, he is still re-learning how to breathe, talk and swallow, his son Liam said.
Connell spent three months in the hospital with damage to his vocal cords and esophagus, and the tendons in his hands were severed while he defended himself, Liam said. He is recovering with weekly voice and swallowing therapy and pool exercises. Liam said his dad will never be the same.
The suspect — Andrew McMenomy-Cortez, 19, of East Palo Alto — had a public defender ask a judge on Feb. 2 to consider treatment for his client rather than jail time on Feb. 1. A hearing on the request is scheduled with Judge Brian Buckelew on March 14.
On Aug. 1, 2020, McMenomy-Cortez approached Connel and asked for help with a flat tire on his bicycle, Liam said. When Connel returned with a pump from his home, McMenomy-Cortez pulled out a blunt knife and repeatedly stabbed Connell in the face and neck for no apparent reason, the son said.
Connel, a Palo Alto resident since 1972, was in great shape for an 80-year-old, and did what he could to fight his attacker off, Liam said.
Connel was in the Navy for 26 years and fought in Vietnam, and he still traveled and was active, Liam said.
Charges could be dropped eventually
If McMenomy-Cortez is granted a mental health diversion and follows the rules of his treatment program, then all of his charges must be dropped after two years under a state law passed in 2018.
To qualify, Judge Buckelew must be satisfied that McMenomy-Cortez suffers from a mental health disorder that was a significant factor in the crime. A psychologist must believe that McMenomy-Cortez would respond to treatment, and he must agree to participate.
This would be like the attack never happened, Liam said.
After the attack, two relatives of McMenomy-Cortez showed up at the scene and said they were looking for him because he asked for a ride, police said. He was arrested a few hours later at his home and remains in jail without bail.
McMenomy-Cortez fled to his home, took a shower and disposed of the knife and most of his blood-soaked clothes before he was arrested, Liam said.
"Whatever the state of his mental health, he clearly appreciated that he had done something horribly wrong," he said.
Flaw in state law
The potential for no criminal sentence exposes a flaw in state law, Liam said. Seven of the most serious felonies, such as murder, molestation and rape, are excluded from the law, but attempted murder is not.
The list of crimes that can't be diverted should be expanded to include more violent crimes, Liam said.
"The public must be kept safe from random acts of savage violence, and victims, such as my father, deserve justice," Liam said.