A new yoga studio has opened in Mountain View, offering vinyasa flow classes as well as workshops on Ayurveda, Moto-Ki energy healing work and more.
Founder Helena McLoughlin, a native of Ireland, started Crave Yoga in December after 13 years of teaching classes in fitness and yoga in various capacities throughout the Peninsula. Crave offers vinyasa flow yoga classes for all levels of ability and experience, and McLoughlin said the studio has a talented, experienced and diverse group of teachers.
"I want everyone to feel welcome, safe and be seen every time they walk in the door – to feel like a second home," McLoughlin said.
Located at 257-A Moffett Blvd., the studio is conveniently accessible to downtown Mountain View, Caltrain, Central Expressway and Highways 101 and 85. They also have secure indoor bicycle storage.
The studio's facilities are brand-new, top-notch and specifically designed with Covid safety in mind. Those design features include high ceilings and a brand-new air filtration system and touchless water system. The studio also requires students to show proof of vaccination.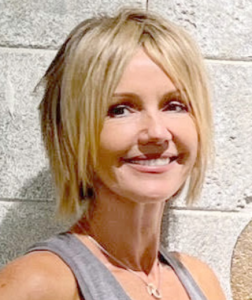 "We offer a variety of classes in the vinyasa flow style, including bhakti and gentle," said McLoughlin.
Vinyasa flow is a style of yoga characterized by sequencing poses so you move seamlessly from one to another, while movement and breathing work together.
"Using the breath to align the body and mind reduces stress and calms the mind while developing strength and flexibility in the body," McLoughlin said.
In addition to its full schedule of classes, the studio regularly hosts workshops in Ayurveda, Moto-Ki energy healing work, mindfulness, meditation and more. That includes a free introduction to Ayurveda – the ancient Indian "Science of life" that takes a natural and holistic approach to physical and mental health – that is held once a month. Crave Yoga also offers a free Introduction to Energy Healing With Moto-Ki.
"We're all about community and education," said McLoughlin. Crave Yoga also supports The Art of Yoga Project, a nonprofit that helps marginalized youths with yoga and creative arts programs.
The studio is eager to introduce the community to its offerings and right now is offering a 14-day intro of unlimited yoga for only $49. That means for two weeks, students can take as many classes as they want to see if the studio is right for them. If they decide to continue, Crave Yoga offers custom pricing packages to suit each student's time, budget and goals, said McLoughlin.
To learn more about Crave Yoga, call (650) 533-3724 or go to craveyoga-mv.com.