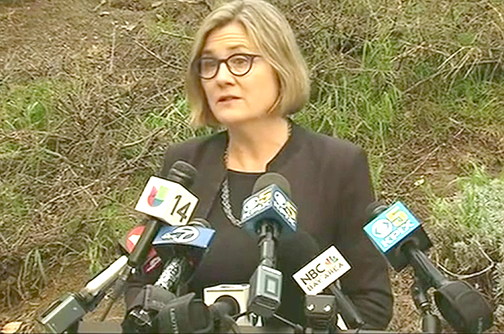 OPINION
BY DAVE PRICE
Daily Post Editor
Every year, the Palo Alto Chamber of Commerce has a gala event to honor the recipients of the Tall Tree awards. The recipients are people whose accomplishments are well known across the community.
I was surprised to hear that this year, one of the winners will be Dr. Sara Cody, the controversial Santa Clara County Health Director.
Controversial is the right word for Dr. Cody, though it may not be kind.
Some people see her as a hero who saved lives with her shutdown orders, fines and other restrictions.
Others are angered at how the county appeared to go overboard in dealing with Covid, and they focus their anger at Dr. Cody. The restrictions, they say, led to hundreds of businesses permanently closing, job losses, an increase in suicides and drug abuse, postponed medical treatments, and learning loss at school.
To lay all of that at Dr. Cody's feet is going too far, in my opinion. Counties all over the country imposed lockdowns and other restrictions. Dr. Cody has taken the heat because she was the figurehead of the county's efforts to combat a virus whose effects were largely unknown.
While the venom directed at her is misplaced, it's also too early to declare "Mission Accomplished" and start handing out trophies. Especially while the county continues to operate under a state of emergency.
An independent review
The county government needs to take a look back to see how well it handled this crisis and what could be done differently in the future.
The Board of Supervisors should hire an outside investigator — a firm with no ties to the county government — to see if Dr. Cody made the right decisions when she imposed lockdown orders and restrictions that were more heavy handed than other counties.
Businesses in Santa Clara County were 13 times more likely to get slapped with a fine than those in any other Bay Area county, and the fines here were 50 times more than the next highest county, San Mateo, according to the Mercury News.
But despite these restrictions, Santa Clara County still had the highest per capita Covid-related death toll of any county in the Bay Area, the Post reported in November.
Another problem is that California law puts the decision of locking down a community in the hands of a county health officer, who isn't elected, and not the elected board of supervisors or a group of experts. It's not fair to expect that a doctor, who has spent her adult life training and practicing medicine, would be an economist or an expert on the public schools.
Different process needed
The decisions on lockdowns and other restrictions should have been made in public, in a room full of experts in every field that would be affected by the new rules. Everybody should have had their say.
Instead, with limited input, it appears we made decisions that were too restrictive and didn't result in a lower death toll.
Government, and its supporters, are often too quick to congratulate themselves for poor performance. In 1998, a flood devastated Palo Alto, East Palo Alto and Menlo Park. Thousands of homes were severely damaged. Water in parts of town was waist-high. At the Palo Alto City Council meeting after the flood, the council and various city employees spent the first hour congratulating one another.
The council chambers were packed with residents who were seething at the city's poor response, and their anger boiled as they watched all the backslapping on the dais.
The disconnect between the people in the government and the governed was palpable that night. In the months ahead we learned that firefighters had fortified then-City Manager June Fleming's home with sandbags, which would have led to criminal charges in other communities. I think the celebration immediately after the flood would have been muted had people known that fact.
Nobody should be getting an attaboy for how they handled the Covid crisis, at least not yet. It's going to take years for local businesses, families and students to recover from this. And maybe the restrictions were absolutely necessary? Or maybe they went overboard? Let's get those questions answered first before we start handing out awards.
Editor Dave Price's column appears on Mondays. His email address is price@padailypost.com.