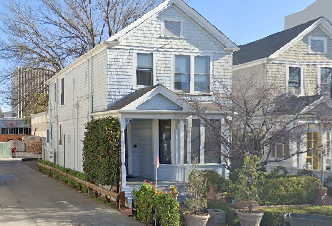 This story originally appeared in Monday's Daily Post. To get local news first, get in the habit of picking up the Post in the mornings.
BY BRADEN CARTWRIGHT
Daily Post Staff Writer
Martin Bernstein, a Palo Alto architect and former member of the Historic Resources Board, has remodeled the inside of his 125-year-old home without a permit, according to a notice from the city.
Bernstein, who couldn't be reached for comment, is probably the last person to get such a notice. He is the former president of Palo Alto Stanford Heritage and the Los Altos Hills Historical Society. He gave a presentation to the latter group in 2010 titled, "My House Is Historic. Can I Remodel It?"
But on Jan. 21, he was ordered to stop construction at 617 High St. He must apply for a building permit and get inspected, or he could be fined $1,000 per day, a notice from Code Enforcement Officer Brian Reynolds says.
Bernstein is also under investigation by the California Architects Board, but a spokesman wouldn't disclose any information while the case is being reviewed.
Reynolds said the city got word that Bernstein's property was "having an internal remodel throughout the whole property," and a building inspector said the construction is illegal. The notice doesn't say how the inside was changed.
Final warning
The notice is Bernstein's final warning. He'll be cited if he doesn't apply for a building permit by Feb. 25, Reynolds said.
The house at 617 High St. was built in 1897 for one of the city's earliest settlers, according to Palo Alto Stanford Heritage. It's listed by the city as a "contributing building" for reflecting late 19th century architecture.
For about a decade, Bernstein was on the city's Historic Resources Board, which is responsible for reviewing and making recommendations on historic properties.
City Council voted not to appoint Bernstein in 2021 in a rare rebuke of an incumbent.
On his website, Bernstein touts his historic acumen and positive relationships with local government agencies.