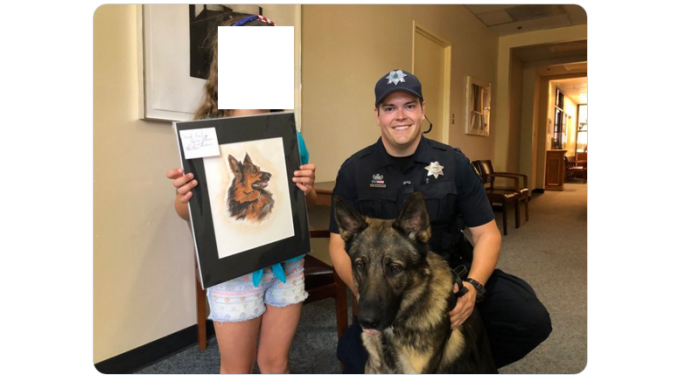 BY BRADEN CARTWRIGHT
Daily Post Staff Writer
Palo Alto police Agent Nick Enberg, who was handling the dog that bit a man while he was innocently sleeping in his backyard, should've announced himself before he entered the property, independent police auditor Mike Gennaco said in his new report to Palo Alto City Council.
Police have said very little about the police dog attack on Joel Alejo in Mountain View on June 25, 2020, which resulted in a $135,000 payment by the city to settle Alejo's lawsuit in December. Gennaco's report shines more light on the aftermath of the attack, and how police followed up.
The department's internal review determined Enberg was justified in ordering his dog to bite Alejo, but he should've given a warning. When officers learned that Alejo was not who they were looking for, it was Enberg himself who interviewed Alejo in the back of a medic van.
Enberg asked Alejo questions that were "leading and accusatory," and "it was evident from the officer's line of questioning that he was nonetheless trying to shift blame to the victim for fighting with the police K-9," Gennaco's report says.
The department's review said Enberg shouldn't have tried to blame Alejo.
The Alejo case was one of 17 police incidents and internal investigations Gennaco reviewed, dating back to July 2020. The cases range from the trivial, such as a missing phone investigation and a car search for marijuana, to more serious, including police dog bites, physical holds and Taser deployments.
The scope of the report is larger than ever before because the City Council expanded the types of incidents that Gennaco reviews, and he had a backlog because he and the city were sorting out whether he should review HR-type complaints between officers.
Gennaco doesn't give dates, names or locations of the incidents he reviews, though his report mentioned facts and circumstances that were the same as well publicized cases, such as the Alejo dog-biting incident in 2020.
Good and bad
Overall, Gennaco commends the police and their internal investigations as strong, but he also calls out plenty of misconduct and a lack of professionalism.
In one case, an officer took his girlfriend on a ride-along, and a dispatcher said her name was "inappropriately" entered into the criminal records database on an in-car computer. The officer also alluded to using illegal drugs at a party with her in a conversation that was recorded.
Joking about doing drugs
Upon review, the officer told a supervisor that his girlfriend looked her name up without him knowing, and he said he was joking about doing drugs to impress her. He was only interviewed for three minutes initially, Gennaco said. The report didn't say what kind of drugs he boasted about.
Gennaco describes other instances where officers should be more professional.
One conversation was marked by "multiple instances of casual profanity and sardonic commentary" when talking about someone living in his car, and another officer joked about having Covid to a man who was upset the officer had coughed without a mask.
Grabbing a shoplifter
Gennaco also criticizes a repeated practice by supervisors who review incidents and add their own justifications for an officer's actions.
For example, a shoplifting suspect was running away from officers, and one of them took her down by grabbing her sweater and hair from behind.
In a review, a supervisor added new threats that the officer may have considered — such as the possibility of the shoplifter retrieving a weapon from a parked car, or an "ambush scenario" if accomplices were nearby
The officer probably didn't have time to consider these potential threats during the quick takedown, and he and didn't mention them in his report. The supervisor "took pains to justify the force through rationales that seemed unduly elaborate," Gennacco said.
"Law enforcement's credibility with the public depends in part on taking ownership of the choices it makes, and that credibility is strained when the potential for harm is exaggerated in this fashion," Gennaco said.