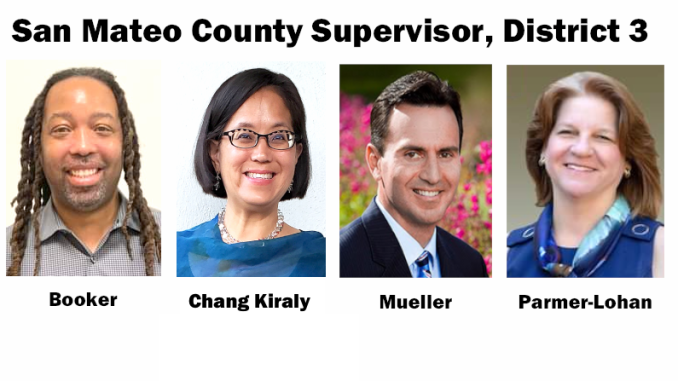 BY EMILY MIBACH
Daily Post Staff Writer
Menlo Park Councilman Ray Mueller has taken the lead in fundraising in the four-way race to replace termed-out San Mateo County Supervisor Don Horsley.
Mueller, an attorney and the Director of Technology Applications for IEM, a disaster and crisis management firm, raised $202,872 last year, according to finance forms.
Mueller's donors include developers such as Sand Hill Properties, Joel and William Burler of W.L. Butler Construction and Scott and David Bohannon. He's also received checks from Menlo Park residents and business owners and various officials from the area.
San Carlos Councilwoman Laura Parmer-Lohan came in second in fundraising, bringing in $168,881. Her donors include the Redwood City firefighters union, foundations such as Fund Her PAC and various officials, such as Santa Clara County Supervisor Susan Ellenberg. Yesterday, Parmer-Lohan announced she received the endorsement of Horsley, the incumbent who is retiring.
"Laura offers fresh ideas and a bold vision for addressing the challenges facing our county and district, including wildfire prevention, drought, and sea-level rise," Horsley said in a statement.
Parmer-Lohan is the chief of staff at Amgen, a biotech company, and the CEO of Ruckus Partners, which helps medical companies launch new products or services
Steven Booker, the political director for the International Brotherhood of Electric Workers 617, raised $91,027 over 2021. Many of his contributions come from various unions, electricians, and coastside residents. Union donors include chapters of the American Federation of Teachers and IBEW.
Booker, a Half Moon Bay resident, is also a member of the San Mateo NAACP and serves on multiple county-wide boards, including the Sheriff's Activities League.
Virginia Chang Kiraly, a county harbor commissioner and Menlo Park Fire Board member, raised $62,911 over 2021. She also loaned her campaign $50,000, bringing her total to $112,911.
Chang Kiraly's contributions come from residents and businesses throughout the district, spanning from the Bohannon Organization to the owners of Half Moon Grow. She also has donations from local officials, including retired Sheriff Greg Munks.
The four candidates are facing off in the June 7 primary. The top two vote-getters will proceed to the November election. Whoever wins will represent District 3 on the five-member San Mateo County Board of Supervisors.
District 3 includes San Carlos, Atherton, Woodside, Portola Valley, Pacifica, Half Moon Bay and parts of Menlo Park and Belmont.