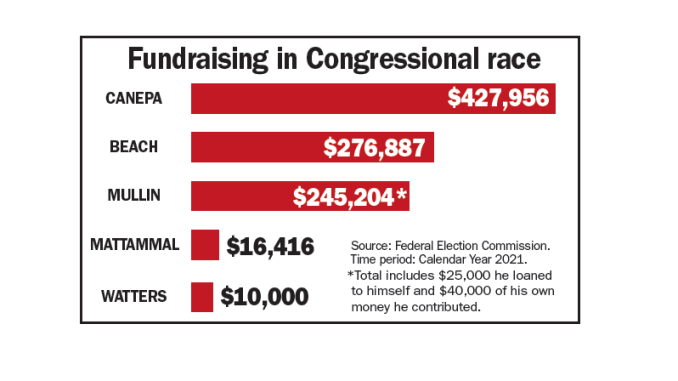 BY EMILY MIBACH
Daily Post Staff Writer
The candidate with the endorsement of Jackie Speier to take over her seat in Congress, Assemblyman Kevin Mullin of San Mateo, has come in third when it comes to fundraising, new financial reports show.
The leader is San Mateo County Supervisor David Canepa with $427,956 in contributions during the previous year, according to reports released Monday.
In second is Burlingame Councilwoman Emily Beach, who reported donations of $276,887 during the same time period.
Mullin, the son of the late South San Francisco mayor and Assemblyman Gene Mullin, not only had Speier's endorsment but also that of Rep. Anna Eshoo, D-Palo Alto, and former San Mateo County political heavyweight retired Sen. Jerry Hill. Mullin raised just $245,204.
The race also features Half Moon Bay resident Gus Mattammal and Redwood City attorney Andrew Watters. Canepa, Mullin, Beach and Watters are Democrats while Mattammal is the lone Republican.
The top two vote-getters in the June 7 primary will go on to the November election, regardless of party.
The fundraising figures are for the 2021 calendar year. The numbers were released on Monday.
Donors
Canepa's donors include many North County residents and business owners, including Daniel Duggan of Duggan's Mortuary and Elena and John Duggan of Original Joe's. Atherton resident and real estate developer John Sobrato pitched in $5,000 and San Mateo County Sheriff Carlos Bolanos contributed $5,800. Canepa also has donations from current and former officials throughout the county.
Canepa has been on the Board of Supervisors for five years and before that was on Daly City's council. Canepa, currently the board president, has made numerous TV news appearances as the spokesman for the county regarding Covid and other issues over the past year.
Beach raised $276,887 during the year. The vast majority of her donors are from Burlingame, where she has been on the council since 2015. She also reports donations from Hillsborough and Menlo Park, along with a few local officials.
Beach served as a captain in the Army, stationed in Saudi Arabia, South Korea and Texas. She's worked as a business executive and has worked with nonprofits to raise money for local schools. During the pandemic, she created the Burlingame Collective, which brings stakeholders in town together to figure out how to navigate the pandemic's issues, such as isolation for seniors and expanding access to a food bank.
Mullin loaned his campaign money
Mullin, who is endorsed by Speier and has the endorsements of many top Democrats in the area, raised $245,204 last year. He loaned his campaign $25,000 and contributed $40,000 of his own money and got money from a number of officials from throughout the county, current and past. Burlingame attorney Joe Cotchett, a major Democratic Party fundraiser, has donated $5,800 and the International Association of Sheet Metal Workers has contributed $5,000.
Mullin has been in the state Assembly for nearly a decade and has had more than 60 bills signed into law, including a pilot program ran in San Mateo County and three other counties that led to all-mail elections. Mullin is also a former South San Francisco council member and has worked for Speier.
Mattammal raised $16,416 in 2021. Many of his donations did not need to be itemized according to Federal Election Commission rules. But he lists four donors — Texas resident Daniel Cowles ($500), Templeton, Calif., resident Joann Jones ($2,000), Menlo Park Venture Capitalist Jeffrey Lee ($2,000) and Disney lawyer Jennifer Suzuki ($1,000).
Watters did not fundraise but gave his campaign $10,000.
Earliest money is the easiest to get
Although Mullin's fundraising was not as high as Beach's and Canepa's, San Jose State political science professor emeritus Larry Gerston and political consultant Ed McGovern both said that the first round of funding is the easiest to get.
"I wouldn't be overly concerned if I were on his campaign," McGovern said. "The early money is the easiest, you're able to go to your family, friends and close political contacts. It gets harder the further along you go."
McGovern and Gerston both said that Speier's endorsement of Mullin will help him with that second leg of fundraising.
"Let's not undervalue Speier's endorsement," Gerson said. "Name recognition aside, she will be able to tap into a different donor base than Canepa, Mullin or Beach can. It's a question of the extent she will work to get him in."
Strategy
Gerston said Beach will also have a different base to tap into because of her gender. In an area as liberal as the Bay Area, Beach ought to be able to get donations from groups such as NOW and Emily's list.
"While her name recognition isn't the same as Mullin or Canepa, if they're busy battling each other, it's possible she could pop in as the number two," Gerston said.
As for Canepa, Gerston said there's something to be said about being "feet on the ground" and keeping up with issues of immediate importance, be it a market opening or a political development. Doing that will help his name recognition greatly.
ᐧ