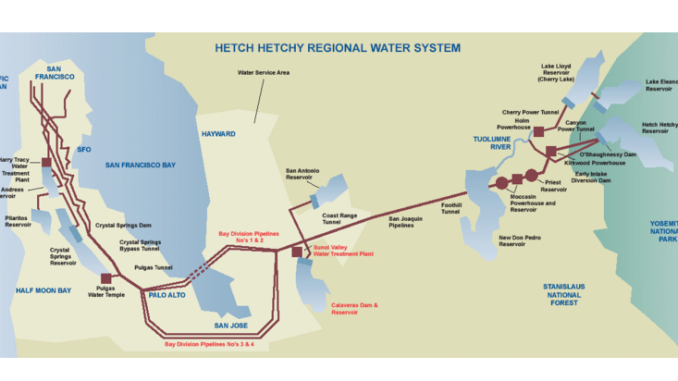 BY BRADEN CARTWRIGHT
Daily Post Staff Writer
Palo Alto City Council is considering selling 1 million gallons of its daily water allocation, but environmental advocate Peter Drekmeier fears the water rights will be sold to Brisbane so a developer can build offices — worsening the region's issues with too many jobs and not enough housing.
The idea of selling some of Palo Alto's water rights to another city was presented in a memo by Councilwoman Alison Cormack and Mayor Pat Burt.
Council will discuss the idea, and whether to have a city planner spend three weeks exploring it, on Monday, Jan. 31.
Palo Alto has used between 8 and 10 million gallons per day for the past seven years, yet has the rights to up to 16 million gallons per day.
Selling 1 million gallons per day in water rights could bring in tens of millions of dollars for city projects, Burt and Cormack said.
Drekmeier — a former council member, mayor and now policy director for the Tuolumne River Trust — said Palo Alto shouldn't sell water to a project that doesn't help the Bay Area. He pointed to Brisbane, where developer Universal Paragon Corp. is looking for 2 million gallons per day to move forward with a massive project on the shore just south of San Francisco. So far, the company has looked to buy water rights from an agency in the Central Valley with no luck, Drekmeier said.
Brisbane voters approved the development in 2018, allowing for up to 2,200 homes and 7 million square feet of commercial space. The development could create space for between 23,000 and 40,000 jobs, depending on how much space each worker uses.
Housing-jobs imbalance
Palo Alto says its strategy for combatting the housing crisis is to limit the number of new offices while increasing the amount of housing. This comes with trade-offs, because many developers say they need to build offices, which are financially lucrative, to pay for housing.
Creating more jobs than places to live raises demand, driving up rents and home prices even more.
"It's a moral question for Palo Alto — is this a project we want to support?" Drekmeier said.
Burt said he had some of the same concerns. While he can't speak for the rest of council, he said he hopes that conditions would be included in the sale so that the water is used for a desirable project that Palo Alto supports. He said he is open to new offices, as long as there is the housing to balance them out.
Palo Alto's water is purchased from the San Francisco Public Utilities Commission, which operates the Hetch Hetchy system that brings water from Yosemite to the Bay Area. The SFPUC has agreed to provide 184 million gallons per day to 26 cities, water districts and private utilities across Alameda, San Mateo and Santa Clara counties.
These 26 cities, which meet as the Bay Area Water Supply and Conservation Agency (BAWSCA), divvied up the allocation among themselves in 1980s.
Previous transfers of water rights
Water rights have been transferred only twice before. In 2017, Mountain View sold 1 million gallons per day for $5 million to East Palo Alto, which made sense for both cities. Mountain View was spending money on a fee whether it used the water or not, and East Palo Alto wasn't allowing new development because of its low allocation.
In 2018, Palo Alto transferred 500,000 gallons for free to East Palo Alto, which had a low allocation because the city wasn't established when the rights were divvied up.
This time around, Palo Alto expects to bring in tens of millions of dollars for the water rights.
"Our current opportunity is quite different and more transactional in nature than our prior transfer," Cormack and Burt said in the memo to council members.
Cormack is Palo Alto's BAWSCA representative and brought the idea forward, Burt said.
If the rest of council likes the idea, then a senior resource planner for the city would write a report that describes a potential contract, an estimated sale price and how the buyer might use the water right.
Some of the money from the sale could be used on water projects in Palo Alto, such as increasing the purification and use of recycled water. The council would review the report in June and consider a sale in the fall, Burt and Cormack said.