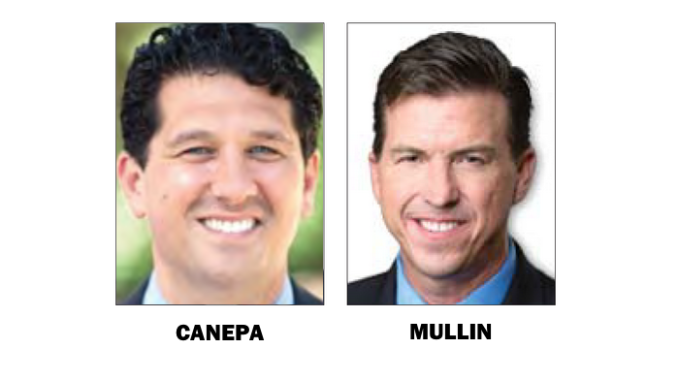 This story was originally printed in the Daily Post on Jan. 19. If you want to get the local news first, pick up the Post in the mornings at 1,000 Mid-Peninsula locations.
BY EMILY MIBACH
Daily Post Staff Writer
The opponent of a candidate for Jackie Speier's seat in Washington, D.C., is saying a Christmas card was a piece of illegal campaign literature.
San Mateo County Supervisor David Canepa announced yesterday that South San Francisco resident Michael Harris filed a complaint with the Federal Elections Commission, or FEC, complaining that his opponent, state Assemblyman Kevin Mullin, had used money from his assembly campaign account to send two mailers — a card and a flyer — that bolstered his congressional campaign.
The FEC complaint says both constituted improper campaigning for the House seat they are both seeking.
The first mailer is a card with a photo of Mullin's family saying, "Happy Holidays to you and yours — the Mullin Family." On the back of the card, Mullin says he's been honored to serve the region in Sacramento over the past nine years.
"We have accomplished much for San Mateo County together. I look forward to working with you to keep our county and our state moving forward to a brighter future as we come through this pandemic," the note says.
The second mailer is a flyer that says "Our Accomplishments Together" over a photo of the San Mateo Bridge. The backside lists some of Mullin's accomplishments in Sacramento in 2021, including getting over 60 bills passed into law, such as including increasing access to child care and improving transparency around campaign monies.
But the complaint points out that since Mullin had already announced he is running for Speier's seat, he was breaking the law. The complaint cites the Federal Election Campaign Act of 1971, which says federal candidates are prohibited from spending money from a non-federal campaign to a federal campaign.
"Dirty politics"
Mullin's team called the complaint "dirty politics," and said this is a distraction technique from Canepa's camp.
"Last week, the news media uncovered $10 million in wasted PPE left out in the rain and destroyed on David Canepa's watch while he was Board President. Canepa called it a 'mistake.' And now to distract from that failure, David Canepa is going negative. That's what candidates do when they can't talk about their own record. In contrast, Kevin will continue to focus on the 60 bills he's passed into law, and being the proven progressive candidate with an actual track record of accomplishments of delivering for San Mateo County families on climate change, affordable housing and voting rights," said Katie Merrill, a campaign strategist for Mullin's campaign.
Canepa's announcement of the complaint against Mullin includes the claim that Mullin's campaign is performing poorly, with Mullin being "out raised $247,000 to $419,000" by Canepa.
Although Canepa has raised more than Mullin so far, Mullin has received Speier's endorsement and has touted his record in Sacramento as good preparation for D.C.
Other candidates
Canepa and Mullin are not the only two seeking Speier's seat. Burlingame Councilwoman Emily Beach is also seeking Speier's seat. So are Redwood City attorney Andrew Watters and Half Moon Bay resident and Republican Gus Mattammal.The five candidates will face off in the June primary. The top-two vote getters will run against each other in the November election. Whoever wins will take over Speier's seat in Congress.
Speier announced her retirement from Congress in November after 14 years in D.C.